Aquino faces 3rd complaint over Mamasapano
- A third complaint was filed against former President Benigno Aquino III before the Office of the Ombudsman on Friday
- Families of the slain commandos reiterated that Aquino should be held liable for his negligence in approving the PNP-SAF operation that took 44 lives
- Present during the filing were Dante Jimenez, founder of Volunteers Against Crime and Corruption (VACC), and the complainants' lawyer Ferdinand Topacio
READ ALSO: Former PNoy faces 'expected' complaints after stepping down; was he surprised?
Former President Benigno III, along with several others who are connected with the deaths of 44 Special Action Force (SAF) commandos, is facing a third series of a complaint filed by another batch of families of the slain cops.
Reckless imprudence resulting in multiple homicides was filed against Aquino and is punishable by six months imprisonment under the Revised Penal Code.
The complaint, which was filed on Friday, August 12, before the Office of the Ombudsman has also named former Philippine National Police chief Alan Purisima and former SAF commander Getulio Napeñas as respondents.
READ ALSO: ER Ejercito wants PNoy in prison; find out why
The complainants are Helen Ramacula, the mother of PO2 Rodel Ramacula; Telly Sumbilla, mother of PO3 john Lloyd Sumbilla; and Lorna Sagonoy, whose son, PO1 Joseph Sagonoy, was the subject of a viral video during the Mamasapano encounter. The footage showed how Sagonoy was being shot in the face by Moro rebels despite him already lying on the ground.
Mrs. Sagonoy became emotional when she recalled how his son died in the hands of the rebels on January 25, 2015.
What brings more pain to her is every time she remembers her son's inhumane death caught on video and she only wishes justice to be served.
READ ALSO: Aquino criticizes the multiple homicide case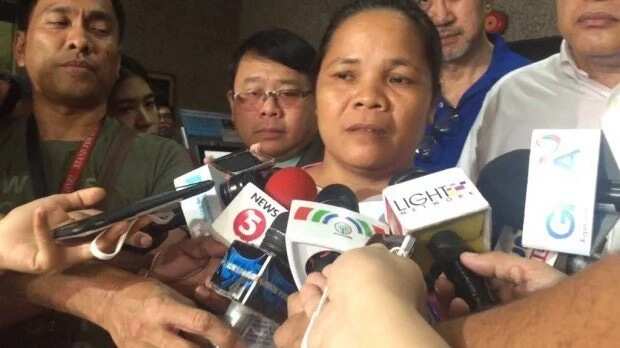 "Hustisiya lang po, hindi pera. Para makaganti lang kami… Masakit talaga sa amin ang makita ang video niya, kasi napakahirap ng pinagdaanan niyang pagkamatay," Sagonoy said.
(We seek only for justice, not money. We just want to have our retaliation… It is unbearable for us to see the video, he suffered a painful death.)
Ferdinand Topacio, the families' counsel, and Volunteers Against Crime and Corruption (VACC) founder Dante Jimenez also attended the filing.
READ ALSO: Anticrime watchdog tells De Lima to resign and defend Aquino in court
Topacio said eight out of the 44 families of the SAF victims had already filed complaints and the rest would soon be filing, too.
The PNP-SAF operation Oplan Exodus may have succeeded at taking down Malaysian terrorist Zulkifli bin Hir alias Marwan, but in the other way around, it  failed. - Kami Media
RELATED: Citizen Noy faces multiple homicide raps after one day of rest
Video from Inquirer.net
Source: KAMI.com.gh