VIDEO: Topless PH soldiers showcased their talents
- A video of dancing topless soldiers in the Philippines has gone viral
- The video featured the topless soldiers' talents in dancing
- The video now has 17,000 views with multiple shares as netizens were delighted to see the soldiers 
We often see them fight for the country. If they're not seen in the battlefields, they often assist in helping our brothers and sisters who are affected by calamities.
Surely, soldiers are of great help to any nation. In fact, the world's superpowers bank on their military force to maintain their status.
While they're often depicted as strong and macho, soldiers have soft spots too. They are as equally talented as any other man.
READ ALSO: What Baron Geisler has to say about President Duterte's war on drugs; find out here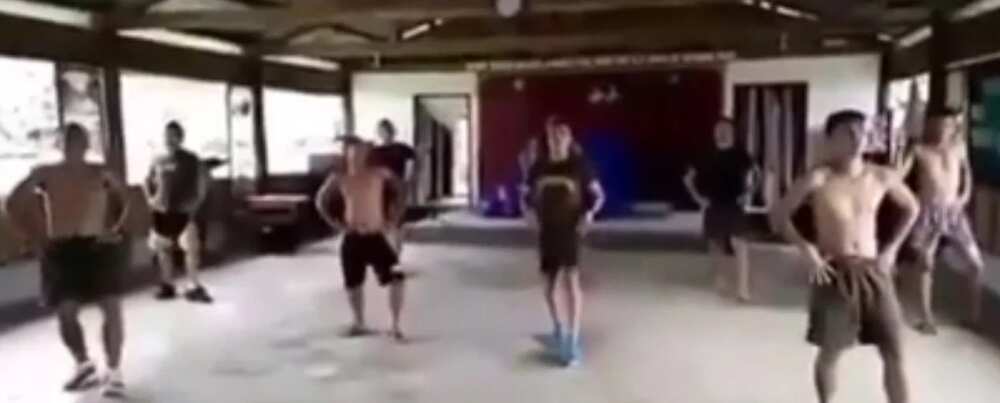 A proof of which is a video of topless soldiers in the Philippines who were spotted dancing. The more exciting part is they're not just dancing for the sake of doing it.
In a 3 minute 3o seconds video, the soldiers performed a dance number which entertained thousands of people who viewed and shared the video on various social media platforms.
The video started with the hot soldiers removing their shirts and lining up to their designated positions, not for military strategy but to follow the choreography of the presentation.
READ ALSO: Top 5 'netizens' who went viral for wrong reasons, number 5 will make you laugh!

They then marched as if ready to go to a battle only to jumpstart their dance number.
Many people commended what the soldiers did which is believed to be their way of killing time so as not to miss their loved ones who are far from where they are.
The soldiers' location of duty is unidentified.
READ ALSO: A judge and a neo-nazi call each other c*nts in the courtroom!
Meanwhile, here are some of the reactions of the netizens who watched the video:




Watch the video here: -Kami Media
RELATED: Palace dismisses martial law fear
Source: KAMI.com.gh