- Actor Baron Geisler posted a video criticizing President Rodrigo Duterte's war on drugs
- In his video, Geisler accused the President of bullying small time drug criminals
- The actor, who said he's not afraid, also called the President a sociopath and challenged him to take a drug test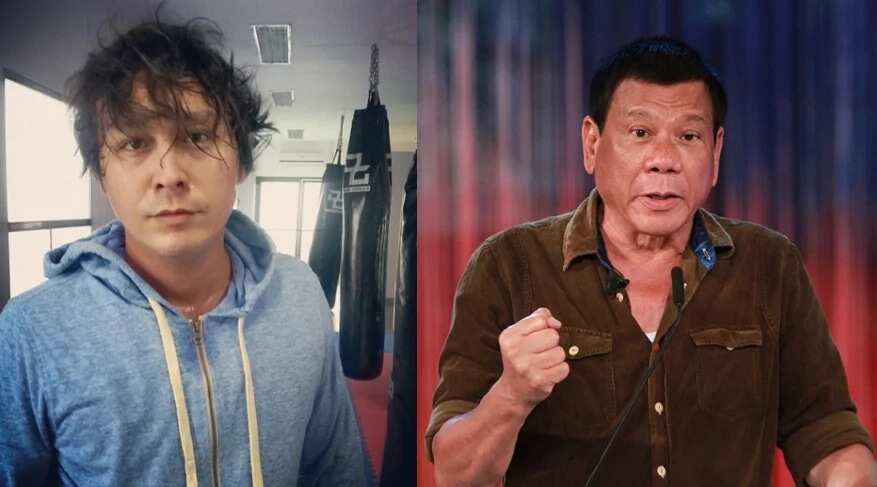 Baron Geisler is known for being outspoken. The actor made headlines recently after challenging Kiko Matos to an exhibition match which later resulted to a draw.
The match came after their confrontation which ended in a fist fight in a bar in Quezon City. Prior to that, Geisler was also involved in a fight with a University of the Philippines student which was caught in a video.
The video then went viral with many people outraged of Geisler's behavior.
READ ALSO: Netizens went crazy over bacon with nipple on it!
Now, Geisler is making headlines again for his video ranting about President Rodrigo Duterte's war on drugs.
In his 10-minute video, the actor criticized the administration for turning a blind eye on the increasing number of extra-judicial killings in the country. He said that the president's war on drugs is anti-poor.
He also talked about Senator Manny Pacquiao's anti-gay remarks using it to rebut the senator's argument in support of death penalty. Geisler also said that President Duterte cannot see the repercussions of killing without due process of law.
READ ALSO: Hidilyn Diaz welcome better than Pia Wurtzbach's?
Geisler also said that the President is bullying small-time drug criminals. He further emphasized that rights are more important above anything else. He expressed how disgusted he is with what is happening and that Duterte is only using the masses.
In the end, Geisler accused the president of being an addict too. He said that the President is a sociopath and has challenged the President to be tested for drugs too.
Meanwhile, here are the reactions of the netizens to Baron Geisler's new video:
READ ALSO: Top 5 'netizens' who went viral for wrong reasons, number 5 will make you laugh!


While some netizens said that Baron made a strong point, there are also those who criticized him saying that Geisler is trying hard in making himself relevant even if he is not.

READ ALSO: A judge and a neo-nazi call each other c*nts in the courtroom!

The video posted on Facebook now has thousands of views with many people sharing it and expressing their thoughts.
-Kami Media
RELATED: Hidilyn Diaz receives additional P2M from Duterte
Source: Kami.com.ph