- Two days ago, Monique Olandesca took to Facebook to post her rant about a man who did not let her sit in the MRT
- The identity of the man she shamed online has been revealed, who turns out to be a working student from Caloocan
- Netizens sympathized with 'MRT Man', while Olandesca continues to receive flak for her post
The man 'MRT Girl' Monique Olandesca has now been identified, thanks to a netizen who gave another angle to the ongoing story.
On August 10, Olandesca's condescending post about the man who did not give her a seat in the MRT went viral. She took a photo of the now-dubbed 'MRT Man', who looked lost in his thoughts. She also degraded the man by equating his physical appearance to his attitude.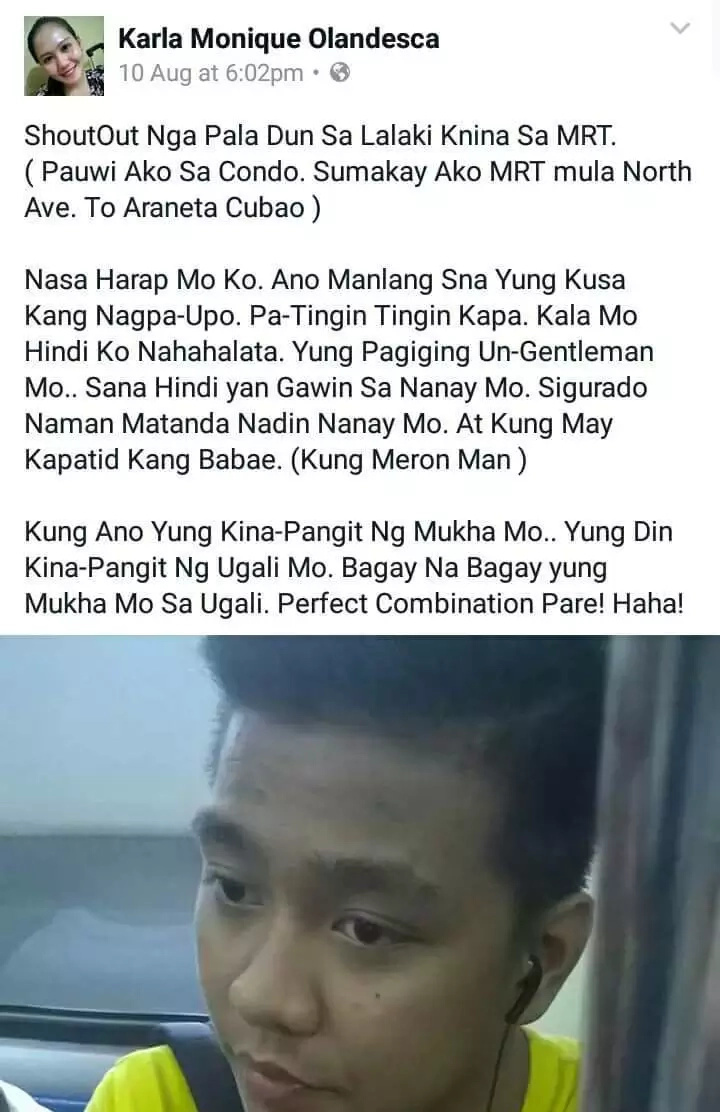 Her photo, however, has made it accessible for netizens to identify the man. The 'ungentleman' Olandesca described is Aldrin Ryan A., who hails from Caloocan.
READ ALSO: LRT-1 has its first ever FEMALE driver!
A Facebook user by the name of Jhoven Adolfo del Pilar spoke about Aldrin Ryan, who said that they are work colleagues.
Del Pilar also said that 'MRT Man' is a working student who does not get enough sleep juggling both responsibilities as a student and an employee. He joined others in criticizing Olandesca who felt that she was entitled to get a seat just because she is a female.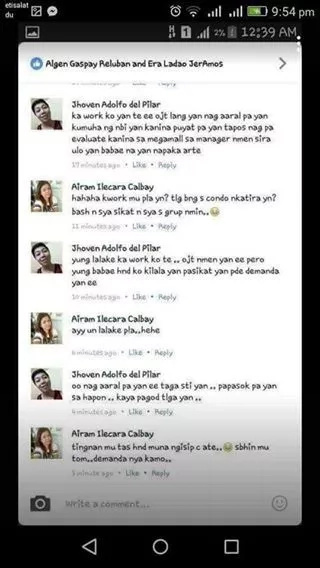 (photo credit: pinoytrending.altervista.org)
Gender equality has been given a bad reputation by Olandesca, who was found out to be offering pleasure in exchange for money.
READ ALSO: Outraged 'netizens' revealed MRT girl's secret job, the truth will shock you!
It is also possible that she will face criminal charges for cyber harassment.
If netizens were repulsed by what she did, they were sympathetic to the man she bullied online.
They commended him for being dedicated to both his studies and his work, and also wished him luck in finishing school.





READ ALSO: LOOK: Tired working student still holding items for sale falls asleep in jeepney
There were also those who shared their experiences and observations in riding the MRT, with an etiquette lesson or two sneaked into their statements.





Remember, gender equality is not giving in to what a woman needs or wants just because of her gender. It is when both male and female exercise the same rights, and it is up to either of them to give way to one another because they think it is just or correct.-Kami Media
READ ALSO: [ANALYSIS] Duterte and women's rights: friend, foe, or frenemy?
Source: Kami.com.ph