- Known with his nickname as Rod, this 63-year-old man is a living proof that it is never too late to change for the better
- Tatay Rod finished elementary studies while in a prison in Bacolod City
- Upon receiving his elementary diploma, Tatay Rod is now up to completing his high school education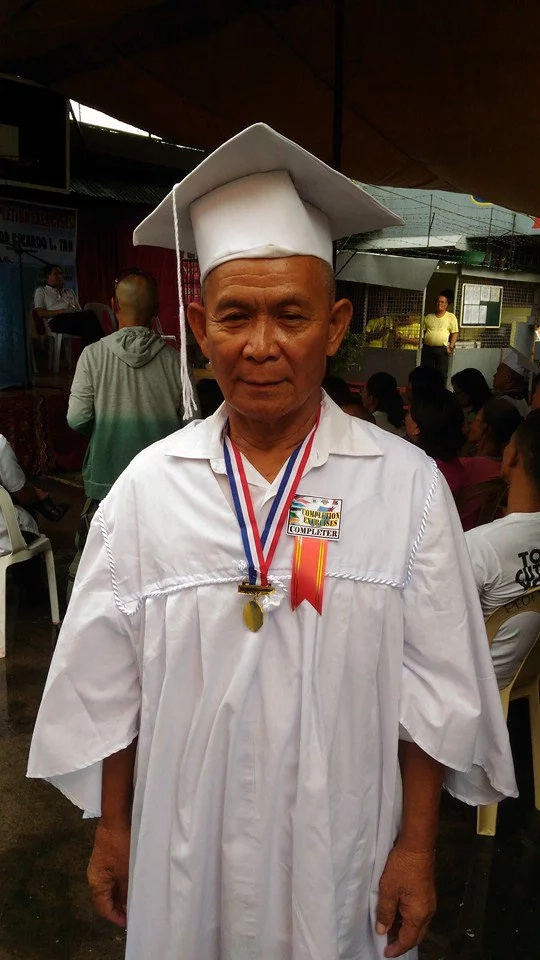 There is a saying that education is the most powerful weapon we can use to change the world. But for this man, it's more than that. For him, education is the key to change for the better and he is one living proof that it is never too late.
Identified only with the alias Rod, this 63-year-old man has finished his studies in elementary through the Alternative Learning System (ALS), a program under the Department of Education (DepEd).
Tatay Rod completed his studies while inside a jail. Looking back, he was only able to reach third grade before he got imprisoned. However, being an inmate did not hinder him from starting a new beginning.
READ ALSO: 4-year-old Duday tries to awaken father who's in coma; what happened next will make you cry
The ALS program afforded him the chance to complete his elementary studies.
Together with 19 other prisoners at the Metro Bacolod District Jail, Tatay Rod climbed the stage on August 8 and accepted his diploma. Of the 19 inmates who graduated, he was the only one who finished elementary education while the rest received their high school diplomas.
According to Chief Inspector Jonairy Sitchon, warden of the Metro Bacolod District Jail, the Bureau of Jail Management and Penology (BJMP) has long been inked an agreement with the DepEd to help inmates complete their studies while inside cell under the ALS. Within 10 months, students are projected to finish their studies.
READ ALSO: WATCH: Inspiring story of Filipino pole dancer with 5 children to 5 different fathers
ALS celebrated its fifth year helping a number of inmates from all over the Philippines.
Meanwhile, Tatay Rod who came from Barangay Culipapa Bacolod, Negros Occidental, has signed up for the high school program right after graduating from elementary. He is preparing to have a better life once he gets dismissed and goes out of jail. - Kami Media
RELATED: The reason why this child studies under a street lamp in Davao City will touch your heart
Source: Kami.com.ph