– A lot of people were chilling in the lake as they saw something strange and large in the water
– It appeared to be a mother bear with her two cubs who were also swimming and having fun among dozens of people
– Video immediately went viral and now has more than 300,000 shares on Facebook
It happened at Lake Tahoe, where a lot of families love to chill and swim. But one mother decided to check on her little kids when she saw a big dark animal chilling in the water.
READ ALSO: Brave dog saves her four puppies from drowning (Video)
First, she thought it was just a huge dog because everyone knows that they love to cool down in the water. But then she looked closer and was shocked – strange animal was a black bear and her two cubs.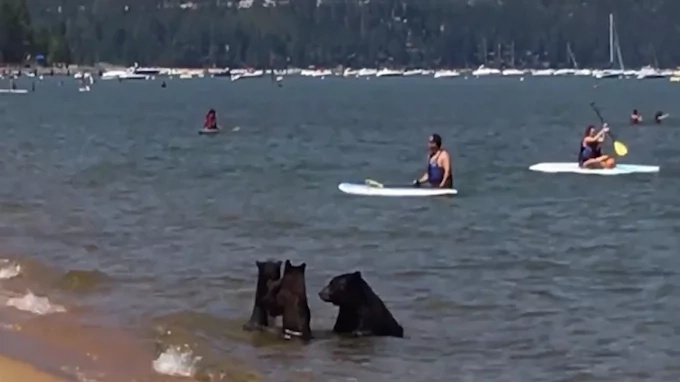 Mother bears are notoriously territorial and dangerous around people, but luckily, everyone gave the three bears enough space so they could cool off in peace.
READ ALSO: Cat fights snake while it's being eaten alive by huge toad
You can watch the whole footage below to see this amazing moment by yourself.
READ ALSO: Gorilla rescues and caries 3-year-old baby who fell in her pit
Source: Kami.com.ph