- The Indonesian government announced yesterday that protecting the gay community and their rights are not their priorities
- The country's LGBT community has suffered from serious threats from different organizations, sectors, and vigilant Islamist groups and has been labeled to be a threat to national security
- Indonesia is known to be one of the more friendly countries towards the gay community On Thursday morning, Indonesia, the world's most populous Muslim-majority country, announced that it has "no room" for the gay community.
Indonesia's government has said that the protection of LGBTs and their rights are not their priorities.
"Rights of citizens like going to school and getting an ID card are protected, but there is no room in Indonesia for the proliferation of the LGBT movement," presidential spokesman Johan Budi said.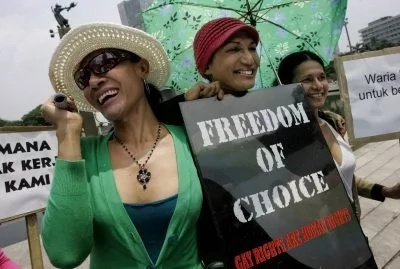 READ ALSO: Gay network within Vatican to be exposed by Pope Benedict?
The country's lesbian, gay, bisexual, and transgender (LGBT) citizens have been a recent target by several vigilante Islamist groups.
For instance, it was only during January of this year that homosexuals where seriously threatened in the country. There was a call to ban them from attending universities and entering campuses.
The country's Technology, Research and Higher Education Minister, Muhammad Nasir, spearheaded the call for all Indonesian universities to ban LGBT people. He argued that these universities must continuously uphold the standards of "values and morals."
His statement met a lot of negative criticisms forcing him to issue another statement saying that "[they] are not against LGBTs but the activity … the problem is when they are showing romance, kissing, and making love (in public)".
READ ALSO: Transgenderism 101: Is Angelina King gay or lesbian?
Shortly two months after the event, the LGBT community lost their rights especially after they were consistently assaulted by ministers, influential Islamic organizations, and even by religious hardliners, Human Rights Watch reported.
To address this issue, HRW stated in their report that "what began as public condemnation quickly grew into calls for criminalization and 'cures', laying bare the depth and breadth of officials' individual prejudices".
In the recent past, Indonesia's situation is not as harsh as that of Singapore and Malaysia. Indonesia has been considered to practice tolerance towards and transgenderism and same-sex sexuality. The country is also known to have never criminalized homosexuality.
Now, the LGBT people are considered as a major threat to the national security while the LGBT movement is labeled as a "proxy war' that is being funded by Western nations to undermine Indonesian sovereignty.
READ ALSO: LOOK: Top 10 gay-friendly countries you may visit
Source: Kami.com.ph