Espinosa accuses PNP of looting and harassment
- Mayor Rolando Espinosa made some serious accusations against the PNP teams that raided his house in Albuera
- According to the Mayor, the PNP teams used harassment tactics and took his vehicles and personal belongings during the raid
- The mayor urged President Duterte to stop the policemen from abusing their power
Albuera Mayor Rolando Espinosa Sr. – one of the local officials suspected of involvement in the illegal drug trade – accused the Philippine National Police (PNP) teams which raided his house on Wednesday of abuse, harassment and looting.
Albuera Police Chief Inspector Jovie Espenido led the raid of the mayor's house in Barangay Benolho. Espinosa claimed that he is not the owner of the 11 kilos of shabu worth P88 million discovered inside his home. He also said that policemen took his vehicles and some of his personal belongings during the raid.
The mayor – who surrendered himself to authorities but was later released – urged President Rodrigo Duterte and PNP Chief Director General Ronald "Bato" dela Rosa to stop policemen from abusing their power and harassing his family.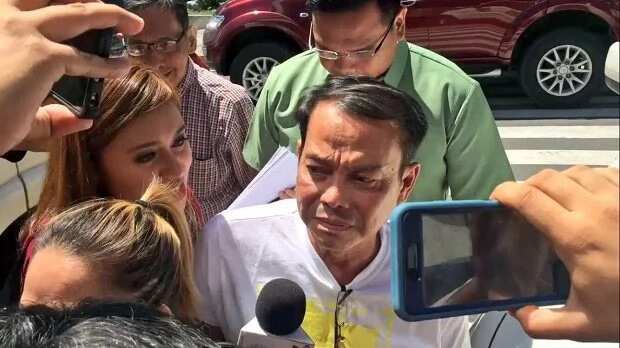 READ ALSO: This man from Misamis Oriental looks exactly like Duterte; FIND OUT who he is
"I am appealing to the President and to the Chief PNP to order his men to stop these threats and harassment to my person and to the members of my family," Espinosa said last night.
According to the mayor, he has no involvement in the illegal drug activities of his son Kerwin Espinosa. The younger Espinosa was first used by police generals as an asset but he soon became one of the big time drug lords in the country, according to intelligence reports.
READ ALSO: After winning the lottery, this employee BEATS up and pees on his boss!
"I have always maintained my innocence on my knowledge of the illegal activities of my son. However, it seems that the authorities are using me to pressure my son, Kerwin, to surrender," the mayor further stated.
He also promised that he will not be leaving the country and that he is prepared to face the charges and accusations against him. The mayor also expressed his belief that the country's justice system will be able to uphold his innocence. – Kami Media
READ ALSO: DRUG lord teams up with ISIS terrorists to KILL Bato & Duterte
Source: KAMI.com.gh