- After being acquitted of the plunder charges filed against her, Former President Gloria Macapagal Arroyo is now a Deputy Speaker at the House of Representatives
- Arroyo told the media that congressmen in Central Luzon nominated her to be region's Deputy Speaker and she assumed that no one would object to it
- The current Pampanga Representative was accompanied by her husband during her visit at VMMC, where she spent almost years of hospital arrest, to donate medical equipment
Former president and incumbent Pampanga 2 District Representative Gloria Macapagal Arroyo affirmed that that she had been promised a committee chairmanship and will be part of the leaders of the 17 Congress.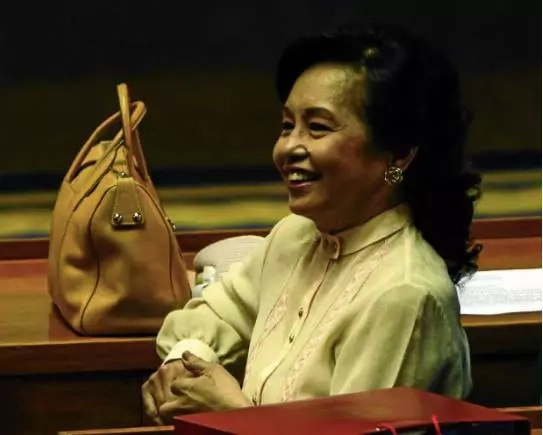 Arroyo said that she was nominated by congressmen of Central Luzon region during their lunch meeting two days ago to become its Deputy Speaker.
'We had a lunch together and then [Bulacan 4th District Representative Linabelle] Villarica, she told her fellow members, 'We would like our former president to represent us as a deputy speaker.' They clapped their hands. Approve, approve, that's how it goes,' Arroyo told the media while she was donating dialysis equipment to the Veteran Memorial Medical Center, a government-run hospital.
READ ALSO: Netizens react to ex-President Arroyo's nomination for House Deputy Speaker
The position of Deputy Speaker is the second highest position in the House of Representatives.
When Arroyo was asked if the position given to her was final, she replied, 'I would presume that nobody would object.'
The former president was accompanied by her husband Mike Arroyo during her visit at the Veteran Memorial Medical Center as a free woman donating medical equipment and not as a detention prisoner anymore.
For almost 4 years, Arroyo was under hospital arrest in VMMC after the Supreme Court dismissed plunder charges against her over the alleged misuse of funds of Philippine Charity Sweepstakes Office (PCSO).
READ ALSO: Duterte wants a "killer" to head PCSO?
Prime posts at the House of Representatives have been taken by Arroyo's former appointees such as Alvarez, Hose Deputy Speaker Miro Quimbo, and Minority Leader Danilo Suarez.
Alvarez was the transportation secretary during the Arroyo administration, Suarez served as vice-chairman of the National Road Board, and Quimbo was assigned as chief of PAG-IBIG fund.
Arroyo won as Pampanga Representative while she was in detention for her plunder case. On July 22, the Supreme Court dismissed the case and ruled that her approval of intelligence fund releases did not constitute an "over act" to commit plunder. - Kami Media
READ ALSO: Public school teachers to get P15,000 salary increase
Source: Kami.com.ph