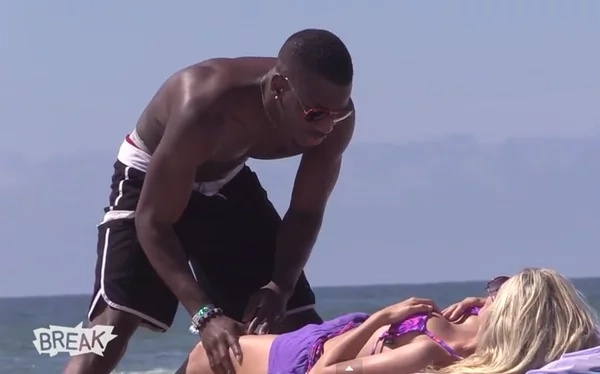 - These Brazilian pranksters have come up with a hilarious new prank
- A beautiful girl asks men to rub sun lotion on her and they all gladly agree to the task
- However they're in for a BIG surprise when the girl turns on her back
This hilarious and very bold prank comes from a group of Brazilian pranksters. The general idea is that a beautiful girl is on the beach and asks passersby to rub sun lotion on her back. It's hard to say no to such a babe, so without much thought the men begin the task. But all their glee and naughty little thoughts disappear the instant the girl rolled over onto her back.
The thing is that there was a phallic object in the actress's bikini. Maybe in other countries the prank victims wouldn't have been fooled so easily, however in Brazil where transsexuals are not a rarity, the men were shocked.
The look on the faces of some of the prank victims is just priceless.
READ ALSO: Watch motorcyclist die in flames as his bike explodes in collision!
Here's more variation on the same theme from the pranksters from BREAK. This time the prank is happening on a beach in the States. Instead of a Brazilian babe, we get a hot blonde as bait for the unsuspecting victims. When the actress rolled over onto her back the pranksters got some some good reaction material for their channel!
Some of the reactions on the faces of these guys is pure comedy gold.
READ ALSO: Witness tells how this boy got decapitated on a waterslide
READ ALSO: Cute video of toddler saying goodbye to his dad for 3 minutes!
Source: Kami.com.ph