- A footbridge that reportedly costs one million collapsed into the river due to its weak structure
- The city mayor put the blame to an unnamed congressman who allegedly have the bridge built using substandard materials causing it to collapse under heavy rains
- The bridge connects villages of Mansaya and Loboc and is beneficial to residents to get from one point to another
A footbridge made out of woods and pipes that allegedly costs one million pesos has collapsed into the river. The footbridge connecting the villages of Mansaya and Loboc was reportedly built in the year 2009 by an unnamed congressman.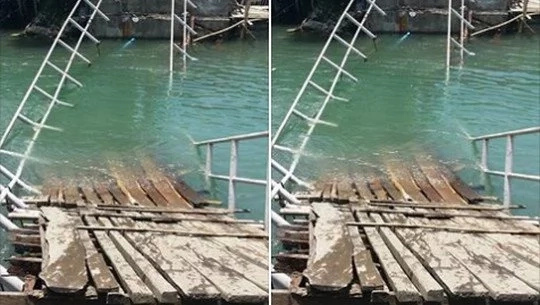 READ ALSO: Shocking video of how cheated wife throws mistress off a bridge!
The bridge is no longer passable due to its weak structure that is surely not worth a million pesos. Mayor Jed Patrick Mabilog took to Facebook to share his sentiments and disappointment over the footbridge, but did not mention any names.
Mayor Mabilog noted that the footbridge took a year before it was finished. The city mayor believes that the funds have been pocketed by someone.
However, Mayor Mabilog made a promise to build a temporary bridge made out of bamboo as soon as possible so that his constituents can cross the towns.
READ ALSO: Driver punches another driver in new viral road rage video
He assured that the local government will build a sturdier and safer bridge than the previous one. By 2017, Mayor Mabilog believes that his government will already have sufficient funds to begin the construction of the replacement bridge.
As expected, netizens reacted negatively towards the unnamed congressman and supports the City Mayor. However, some of the netizens even bashed the mayor for finger-pointing the congressman when he could have done something for these villagers, especially since he was the mayor since 2010.
Netizens were also fuming with rage after discovering that a large amount of money was spent on the bridge only to collapsed after six years, especially since residents who are now having trouble crossing the village.
READ ALSO: Car owner berates buko juice vendor
Source: Kami.com.ph