- Ellen Adarna, who stars in ABS-CBN's afternoon soap 'Pasion de Amor', is notoriously known for her sexy, provocative shoots
- The actress posted on Instagram a black-and-white outtake of a previous shoot, using emojis to cover her private parts
- Netizens commented that they were annoyed with the emojis, while others requested for an unedited version
The controversial actress is back at what she does best - flaunting her body wearing close to nothing or just exposing it in its entire nudity.
Recently, Adarna posted a black-and-white photo of herself on Instagram, wearing nothing but a skimpy tank top that did nothing to cover her private parts.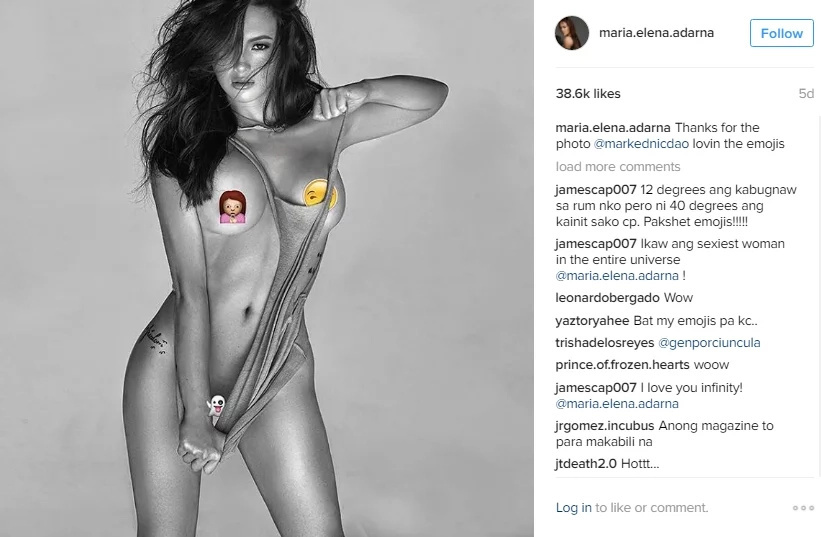 Since Instagram has updated its 'no nudity' policy over a year ago, she got away with placing emojis over her nipples and vagina.
READ ALSO: Top five richest female pornstars of 2016
"Thanks for the photo @markednicdao lovin the emojis," the 'Pasion de Amor' actress wrote in her caption.
Mark Nicdao, who is one of the country's famous celebrity photographers, has previously collaborated with Adarna on a couple of projects. He shot her Bench Body campaign two years ago and a couple of sexy but tastefully-done covers for various local magazines.
The photo is actually an outtake from her shoot for Rogue magazine. She was the cover girl for its Art Issue last year.
READ ALSO: See how "Game of Thrones" actress became a star of the new Pokémon porn!
Male netizens mostly took to the comments, who jokingly expressed their irritation on the invention of emojis.


There were some who wished they could be the emojis instead.


Others asked for an emoji-free version of the photo.


There were also those who deemed that she should be FHM's Sexiest, and even girls agree.


And there will always be fanatics who will continue to worship the land she walks on, or are just too turned on to comment properly.


What do you think of this #tbt sexy photo? Do the emojis make sense in covering what's left of Adarna's body or should she just post it uncensored? Sound off in the comments!-Kami Media
READ ALSO: Posting sexy photos on FB? Read this guy's open letter to women who post sexy photos online