Girl who called De Lima and Drilon "pigs" said she was paid
- The video of a girl who called Senators De Lima and Drilon as "pigs" went viral
- The girl in the video subsequently posted a statement saying that she was just paid by a US-based woman to do the video
- She likewise said that she was also tasked to do a video on VP Robredo but she said she would do it next time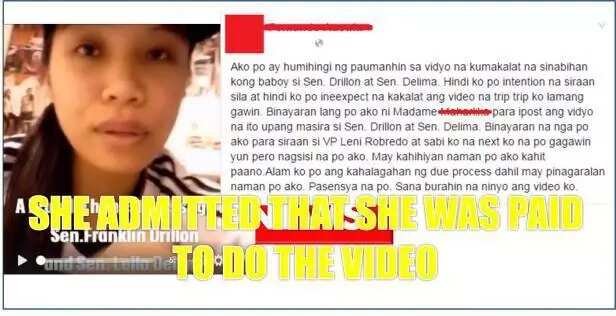 A video posted by a young girl on FB has gone viral and have garnered considerable views. While the numbers are a reason to rejoice, the message she delivered may not fare well with two of the country's top officials.
READ ALSO: Errors found in President's drug list
The girl's video was a series of insults hurled at Senators Leila De Lima and Franklin Drilon. She didn't just merely deliver a series of foul words, but she called the two as a "pig."
Although according to the girl, she was merely paid by an anti-Robredo Filipina.
The so-called individual who allegedly paid her for her post was a US-based Filipina, working as bias media. She must have hated the two senators so much, to the point of getting somebody to call them as pigs.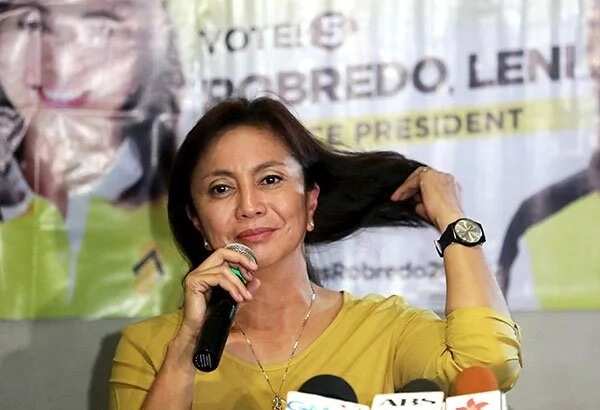 On a lighter side for both De Lima and Drilon, it wasn't only the two of them that became the subject of the ire of that US-based woman. The girl reported that she also instructed the girl to make another video but this time around, it would be about Vice President Leni Robredo.
READ ALSO: Pacquiao backs death penalty in his 1st privilege speech
Thinking that she already has a lot on her plate, she refused to do the Leni video.
Thereafter, the poor girl must have had a conscience attack (perhaps her mom voted for De Lima during the last senatorial elections) that she posted a "disclaimer."
READ ALSO: Robredo against Marcos burial at Libingan, says he is no hero
In her post, she claimed that she is asking for an apology for her video that is circulating. She said that she was just paid and that she also knows what due process is because she is also educated.  – SD, Kami Media
Source: KAMI.com.gh