This baby was born still inside the amniotic sac (video)
– Spanish baby was delivered recently still inside the amniotic sac
– Video of this child baby being born has been viewed more than 6.8 million times
– A phenomenon so rare the chances are 80,000 to one
Footage taken in Spain shows very rare moment the baby was born with the membrane covering its entire body, just minutes after its twin was delivered normally.
READ ALSO: Mother was told to abort her baby after seeing this in the ultrasound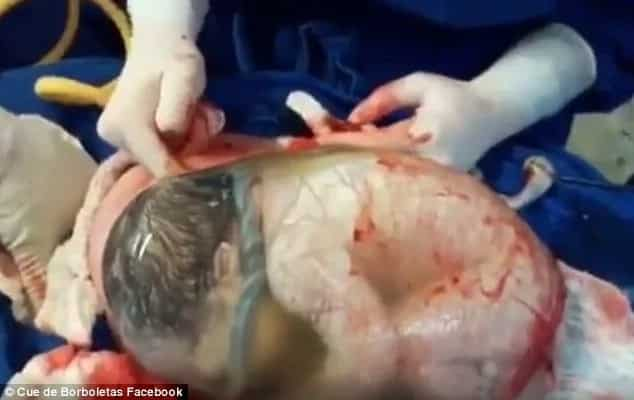 The video shows the baby moving inside the clear sac on a hospital table as doctors and nurses watch him with shock. Statistics says this phenomenon is so rare that happens only in every 80,000 births.
Doctors gathered around the table to catch a glimpse of what for most medical professionals is a once-in-a-lifetime opportunity.
READ ALSO: Shocking story of 2-year-old Chinese gives "birth" to her own twin
Although the sac normally breaks during the stress of child birth, it had to be cut by a doctor in this instance. The umbilical cord was still wrapped around the baby as it was cut free from the amniotic sac after birth
Now the video wen viral and was uploaded several times by different people with a total of more than 26 million social media users from all over the world watched it. Just in one day!
READ ALSO: Watch the incredible video of baby boy really walks his way out of his mother's womb
Source: KAMI.com.gh