Police harasses arrested man
- A video of a police officer went viral as it clearly shows police brutality
- The police was caught threatening a man inside the police mobile who remained calm and composed amid the commotion made by the police
- The incident reportedly happened after retired General Vicente Loot stopped the irrigation for the farmers and the farmers were against it
One of the police officers in Daanbantayan, Cebu was caught on camera harassing and threatening the man inside the police mobile.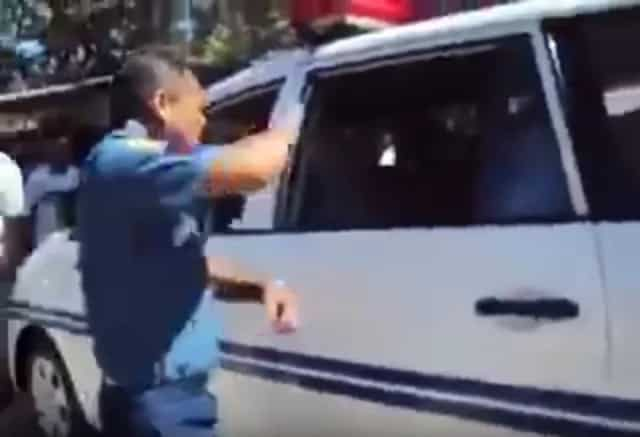 READ ALSO: Duterte lists officials allegedly linked to illegal drug trade
The man who was clearly calm about the situation even tried to explain his side to the police officer but that did not stop him. The police officer showed anger and banged the door of the mobile.
The incident happened after retired General Vicente Loot, who was named by President Rodrigo Duterte as one of the narco-generals, ordered the police to stop the irrigation. People explained that they cannot stop irrigation because alternatives are expensive.
READ ALSO: Is Leyte mayor's son linked to 2 'DRUG generals?' See Duterte's intel report
Some people said that the video is not new and explains that it was taken while Maria Luisa Loot was still the Mayor of Daanbantayan, back in 2010-2013. Maria Luisa Loot, wife of the retired general, was recently elected Mayor of Daanbantayan, Cebu, where he also served as general for many years.
Retired General Vicente Loot is one of the 5 generals President Rodrigo Duterte named as "drug protectors" on July 4 during the 69th Anniversary of the Philippine Air Force in Clark Airbase.
As expected, netizens were disappointed and gave negative feedbacks on the video.  Netizens wanted to castigate the officer on the video and even got punished by the President Duterte.
READ ALSO: In flagrante delicto: 2 QCPD cops caught while receiving 10k bribe
Watch the video below.
Source: KAMI.com.gh