- A video of a girlfriend testing the loyalty of her boyfriend by sending a porn star to flirt with him has become a viral sensation
- The interaction of the boyfriend with the porn star kept the girlfriend guessing whether he would cheat or not
- The twist ending of the video shocked the online community
A video of a concerned girlfriend testing the loyalty of her boyfriend by sending a porn star to flirt with him has gone viral. The interaction between the boyfriend and the porn star would keep you guessing whether he would go on and cheat on his girlfriend.
The video shows the boyfriend entering a store and ignoring the initial advances of the porn star while the girlfriend watches on the screen their interaction.
The porn star made her second move when the boyfriend went out of the store. She started asking for his phone number and the boyfriend responded by asking her why she wants it.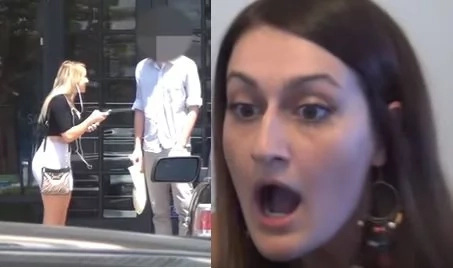 READ ALSO:VIDEO: Chiz Escudero applies makeup on Heart Evangelista; FIND OUT how well he does!
She then asked if he has a girlfriend. The boyfriend's response made his girlfriend very worried: "I'm seeing someone. But you know, we could like hang out together."
However, what the boyfriend actually meant was that he would like to hang out with the porn star as long as his girlfriend was there with them. He then tried to say goodbye to the porn star but she persisted and asked him to drive her to his home so that she could spend the night there.
READ ALSO: Resolution seeks to BAN Donald Trump from entering PH over 'terrorists' remark
The boyfriend refused to grant the porn star's request and proceeded to go to his car. The porn star continued to try her best to get him to say "yes" to her offers but the boyfriend's loyalty to his girlfriend did not break.
Unfortunately, the girlfriend gave a mixed review to his boyfriend's display of loyalty. She said that she would not break up with him because he did not give in to the porn star's requests but she complained about the fact that he saved her number on his phone and agreed to hang out with her in a group date.
The ending of the video is even more surprising. When the boyfriend found out that he was pranked, he decided to break up with his girlfriend.
SHARE this video with your family and friends! – Kami Media
READ ALSO: VIDEO: This reunion of a soldier and his 3-year-old son will TOUCH your heart and make you CRY
Source: Kami.com.ph