Car owner vs buko juice vendor in a social experiment
- A car owner shouted at a buko juice vendor after the latter hit his car
- No soul has come to the rescue of the buko juice vendor based on the video, but netizens claimed that some people came to his aid
- The video is a part of GMA 7 Wish Ko Lang's social experiment that aims to find good samaritans
A video of a car owner shouting at a buko juice vendor went viral online.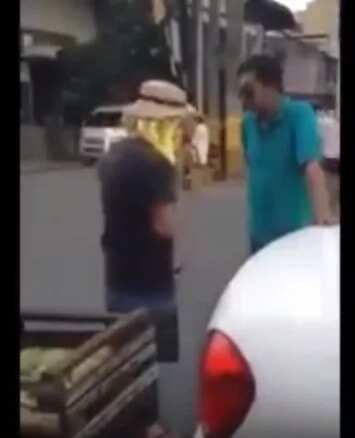 READ ALSO: A mother's quick reactions might have saved her child from a snake!
Although not seen in the video, can be assumed that the buko juice vendor hit the back end of the car.  The buko vendor apologized after the minor incident, but the driver keeps on shouting and started throwing things from the wagon.
It caught the attention of the netizens and defended the buko vendor, the underdog in the incident. As the altercation progressed, the driver was shouting, "Bayaran mo ko! (Pay me!)"  and the driver started throwing things around from the vendor's wagon. The driver even grab the vendor's shirt and said,  "Niloloko mo ba ako?  (Are you fooling me?)"
The video entitled, "Magbubuko vs Mamang Naka Kotse," gained a lot of negative comments from netizens. One even commented, "Mas nakakaawa yung may kotse, wala kasing asal. (I pity the driver, who doesn't have manners.)"
READ ALSO:VIDEO: 8 Scary & Creepy CCTV footages that will SHOCK you!
Bystanders were seen watching the incident but no one came to help the buko vendor.
However, apparently, the incident was a social experiment from the program of GMA7 Wish Ko Lang that aired in November 2014. The whole video revealed that a few people come up to the defense buko juice vendor.
The program aimed to find Good Samaritan that will help those in need. This is similar to the US program "What Would You Do?" - a program that aims to catch the good deeds of ordinary people in order to restore our faith to humanity.
Watch the video below.
READ ALSO: This woman was attacked by a hammer-wielding thug in broad daylight!
Source: KAMI.com.gh