VIDEO: 3-year-old boy's heart-warming reunion with his daddy
- A video showing the reunion of a 3-year-old boy and his father after months of not seeing each other has become a viral sensation
- The father just came home after months of performing his duty for the U.S. Navy inside a submarine
- The video became popular for its great display of love, affection, and longing between a father and his son
A video showing the reunion of a 3-year-old boy and his father after months of not seeing each other has become a viral sensation. The boy's obvious love, affection, and longing for his daddy touched the hearts of many netizens all over the world.
The video shows the father returning from duty after months of spending time inside a U.S. Navy submarine.
"My husband is on the USS Tennessee so my son hadn't gotten to talk or see his father as submarines do not have the option to call or Skype and when on Alert email is off as well. Here's my 3 year old son when daddy came home from deployment," the mother of the boy said.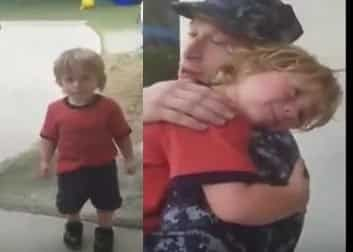 READ ALSO: 8 Scary & Creepy CCTV footages that will SHOCK you!
The boy's reaction after seeing his daddy finally home is genuinely heart-warming.
"I miss you so much daddy!" the boy said. "I missed you too," the father replied.
The boy even asked his daddy if their reunion was really happening. He then hugged his father tightly and told him about how he "cried and cried" while he was away. The video ended after the boy told his father that he feels happy seeing him again.
READ ALSO: VIDEO: This huge guy saw his MOM for the 1st time in 10 years; his reaction will make you CRY
"I can only imagine how full that little boy's heart was from getting a real hug from his father and not a virtual one. Thank you all for your service. This country is nothing without you," one social media user commented.
The video displays the strong bond between a father and son, the sacrifices that soldiers have to make in service of their country, and the heartache a person feels while being apart from his or her loved ones.
SHARE this emotional video clip with your family and friends! – Kami Media
READ ALSO: Mom with an angel voice sings a song to her BABY; what the child does will AMAZE you!
Source: KAMI.com.gh