- A photo of a life guard at the Rio Olympics swimming event has gone viral
- Many people turned to Twitter to mock the woman for having the most pointless job in the world
- It turns out that Brazilian laws require life guards even if the event is graced by the world's best swimmers
We often hear people complain about their jobs. Some people find their jobs extremely boring while others find theirs to be physically and mentally draining.
There are also those who are lucky enough to land jobs that they dreamed of. Whichever part of the spectrum you belong, the more important thing is you're employed.
This woman's job, however, will leave you wondering as to when she would ever be of use.
READ ALSO: Hidilyn Diaz to receive P5M from PH government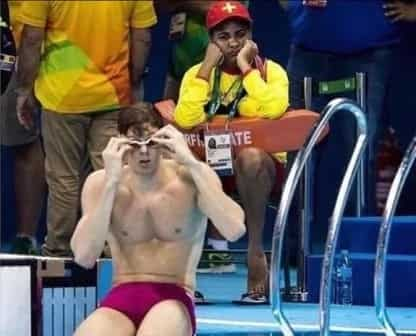 A photo of a lifeguard in the Rio Olympics swimming event has gone viral after social media users mocked the woman.
Many people believe that the woman probably has the most pointless job in the world.
How often do you see a lifeguard rescuing the best swimmers in the world, much more with the likes of Michael Phelps, winner of 19 gold medals in the field of swimming.
READ ALSO: Twitter users recognize PH Olympic win
The woman in the photo appears to be bored of waiting for someone to be saved. The photo has been shared by various social media users who also aired what they felt about the woman's job.
It turns out that even if lifeguards are of little to no use in an event like the Olympics, Brazilian law requires their presence. 
          Worlds most useless job - lifeguard at Rio #Olympics2016 pic.twitter.com/tuNNWJy4uk — Rhett Wilsmore (@RhettWilsmore) August 8, 2016
READ ALSO: Find out what Oympic silver medalist Hidilyn Diaz ate after winning in women's weightlifting. It's superbly unhealthy!
Whether the woman's job is pointless or not, the thing is at least she's employed. She may looked bored while waiting for someone to be saved but isn't it great to witness the world's best swimmers at the Olympics? Others will die hard trying to get close to these superstars but can't.
This woman however is just a couple of inches away from these stars, now that's something to be envious about. -Kami Media
RELATED: Five things you need to know about Rio Olympics silver medalist Hidilyn Diaz