Man walks the daughter of his donor on her wedding day
- The organs of Michael Sapien were donated after he was killed in a local robbery in 2006
- Arthur Thomas, the recipient of Sapien's heart, walked down the daughter of his donor during her wedding
- Thomas and Sapien's family have kept in touch after the transplant, and have only met during the wedding
A simple wedding gets an unexpected twist, as Jeni Stepien was walked down the aisle with a man who is not exactly her father.
The Pennsylvania bride was given away by Arthur Thomas, the man who has received her late father's heart.
Stepien's father, Michael, was killed in a local robbery ten years ago. His body was on life support for 24 hours before his family decided to donate his organs when he passed away.
READ ALSO: Groom surprised bride with hilarious wacky groomsmen dance! You'll laugh your heart out!
On the other hand, Thomas has been patiently waiting for over a decade for a heart transplant in New Jersey.
"I was on death's door when he was murdered and I needed a heart or I was going to be dying in the next few days," he said.
In the next 48 hours, Thomas received the Stepien patriarch's heart and a new friendship was born between him and the donor's family.
READ ALSO: WATCH: Teen girl marries her DYING high school sweetheart in the hospital
Tom, as he is fondly called by Stepien's family, wrote his thanks to the family on the Christmas after his transplant. What ensued after was constant communication via letters and phone calls but it was not until Jeni's wedding that they have decided to finally meet each other.
On Friday, Stepien came face to face with the man who has a part of her father, grateful for responding to her request that he walk her down the aisle during her wedding.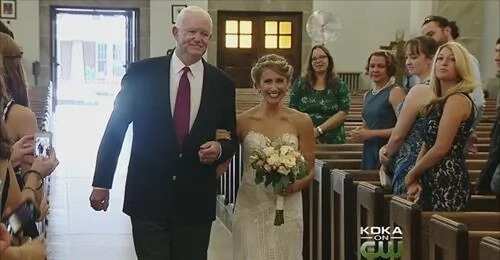 "When my fiance proposed, one of the things I thought of was 'but who will walk me down the aisle'? I could think of nobody more meaningful than Tom," she said.
READ ALSO: LOOK! SCQ's Joseph Bitangcol ties the knot!
Pittsburgh TV station KDKA was able to capture a touching moment between the two, as Stepien was in tears when she felt the heartbeat of her father on Thomas' chest.
According to the newlywed, her family was elated with her decision to invite the organ recipient.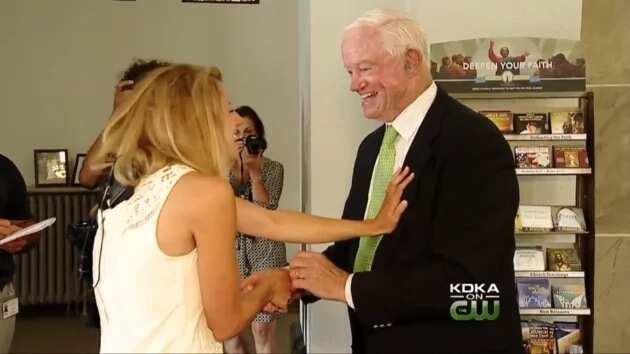 "My mother was very touched by the idea also and thought it was a very appropriate gesture to honor my father. I knew how important it would be for her and my sister to receive this piece of closure by finally meeting Tom as well."
READ ALSO: WATCH: This old man singing a love song to his DYING 93-year-old wife will break your heart
Her story has been picked up by various media outlets, and she hoped that people would honor organ donors better.
"Organ donation can provide an opportunity for a second chance at life. It is an exceptional gift, one that is selfless and generous, and always appreciated by the recipient," she said. "We were able to see how wonderfully Tom was progressing all of these years, simply thriving, and [that] in turn, helped us with our own grief," she said.
In the end, both are happy to have lived another day in peace, knowing that they will be there for each other.
Share this touching story and comment on what you think about what this bride did!-Kami Media
READ ALSO: WATCH: Chinese bride pulled off a joke during wedding; what her groom did will shock you!
Source: KAMI.com.gh