- Netizens expressed their recognition and congratulatory messages after a Filipino athlete bagged a silver medal in Rio Olympics 2016
- Hidlyn Diaz, a Filipino athlete, won the silver medal in the women's weightlifting competition in Rio de Janeiro in Brazil
- Diaz is the first female athlete to take home an Olympic medal and is the athlete that ended the country's Olympic medal drought
It is indeed a victorious moment for the Filipinos after Hidlyn Diaz, the country's athlete for women's weightlifting, bagged a silver medal in the 2016 Rio Olympics, Sunday, August 7, in Rio de Janeiro, Brazil.
The 25-year-old Mindanaoan is the first Filipino female and non-boxer athlete to bag an Olympic medal for the country and has also ended the country's medal drought in 20 years. Diaz secured a spot and took home the silver medal in the 53-kg women's weightlifting division, recording a total weight of 200kg.
After her victory, netizens and even some famous personalities expressed their appreciation in social media and Diaz's win immediately topped the trending tweets in the Philippines.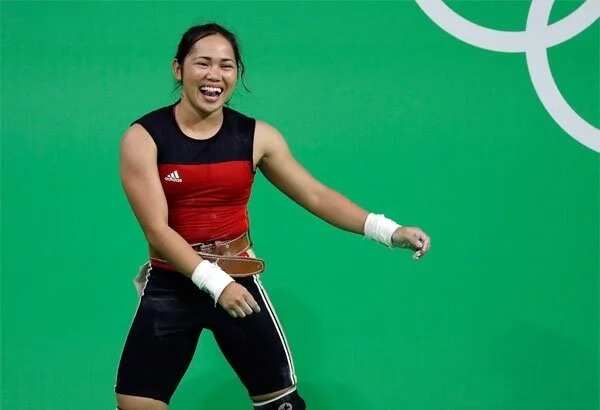 READ ALSO: Five things you need to know about Rio Olympics silver medalist Hidilyn Diaz
Here are some of the congratulatory messages for the Olympic medalist on Twitter:
@migsbustos: "Adjustment pays off for Hidilyn Diaz as she deferred from her usual weight class. Thank you for making PH proud once again! #LabanPilipinas"
@joannaxdiaz: "Dapat alagaan ang mga atleta natin eh. Galing Hidilyn Diaz. Congrats Pinas! #Rio2016 #PHI #LabanPilipinas #weightlifting"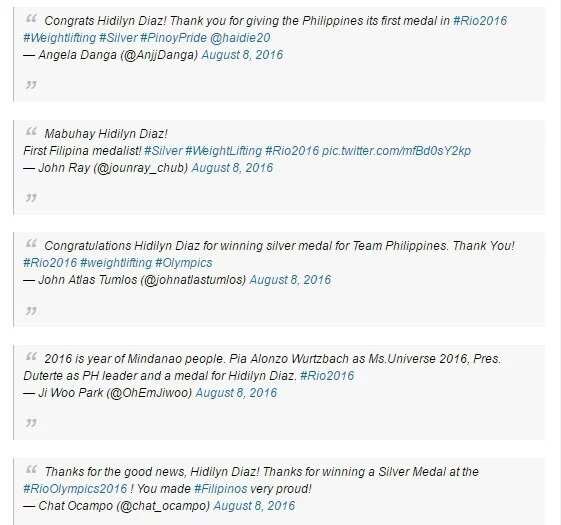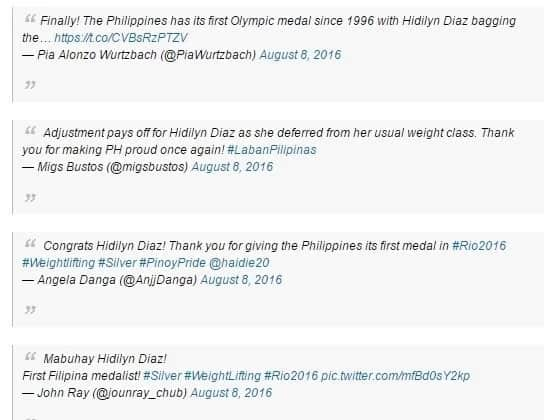 READ ALSO: Find out what Oympic silver medalist Hidilyn Diaz ate after winning in women's weightlifting. It's superbly unhealthy!
@zjrosal: "I can't believe it! So proud right now. Congrats Hidilyn Diaz for winning #Olympics #Silver No. 3 for the #Philippines! Gr8 mental strength!"
@orewaNarucca: "So lucky I was awake when Philippine history happened. Sobrang saya taga Zamboanga pa siya. Congrats Hidilyn Diaz! :))"
Diaz started joining the Olympics in 2014 when she was just 17 years old. This year is her third and might also be her last participation in the Olympics. - Kami Media
READ ALSO: This Chinese swimmer makes hearts swoon in Rio Olympics [PHOTOS]
Source: Kami.com.ph