- One of the judges whom President Rodrigo Duterte identified as a drug protector has already passed away in 2008 
- Duterte released on Sunday a list 0f 150 personalities who are allegedly involved in illegal drug activities
- The president's move has received contradicting views from the Filipino people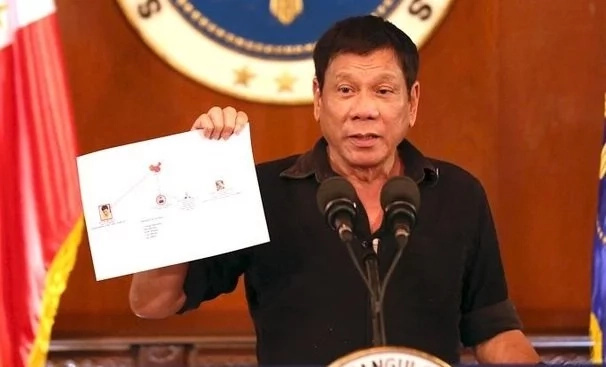 As part of his battle against crime and illegal drugs, President Rodrigo "Digong" Roa Duterte dropped the names of over 150 personalities involved in the illegal drug trade on Sunday, August 7.
The list that the iron-fisted president disclosed during his Davao press conference includes officials from the local governments, police, and judiciary.
Shortly after his announcement, it appeared that one of the judges he named as a drug protectort has died 8 years ago.
READ ALSO: Rape is not a joke: Here's why victims won't tell you they were sexually abused
Judge Roberto Navidad of Calbayog City was killed while inside his vehicle on January 15, 2008, by an unidentified assailant.
Elias Navidad Acosta, the deceased judge's nephew and a court sheriff at the Regional Trial Court-Branch 7 in Calbayog City, expressed disagreement through a text message, noting that his uncle was killed by syndicates because he was a drug eliminator and not a drug protector.
"That is a big lie. The reason why he was shot to death was because he fought with the drug lords in Calbayog City," the text message read.
On Reddit, similar issue posted as "Samar judge tagged by Duterte as drug protector died 8 years ago, family says; fought against drugs" generated mixed reactions.
READ ALSO: Chief Justice Sereno writes concerns over Duterte's list
Reddit users cite the possible danger of Duterte's move.
Mofohomo:
"This really makes you question if the list is even up to date and accurate. The fact that the list came from Duterte himself puts a huge target on these people's backs kaya sana naman accurate yung list (we hope the list is accurate)."
98GC8E2SD:
"The intelligence community needs to do a better job because you can't put someone's life in danger with bad information. How can you accuse someone without being certain that you have proof?"
iMadrid11:
"Intelligence information is basically tsismis (gossip) or rumors that is un-vetted. This intelligence info is not meant for public release or consumption. But for internal inter-agency investigations. The only way you could verify if the information is true or false is to investigate and gather evidence."
READ ALSO: Duterte vs Ilonggos! Find out why they are UPSET with the President
Other Redditors scrutinized the reliability of Duterte's list of narco-personalities.
Gtfda:
"I laughed. Wtf tho, I thought they checked it thoroughly? I guess this is the result of fast-tracking the justice system."
tiguwang:
"I thought they checked it thoroughly. We're talking about Duterte here. His only concern is that there's regular blood sacrifice."
Mrkczr:
"Alam kong marami talagang politicians ang involved sa drugs, pero kung ganito ang intelligence gathering ni Duterte mukhang mababawasan yung validity ng listahan na nilabas niya."
(I know there are several politicians who are involved in drugs, but if this is how Duterte's intelligence gathering works, the list he released will depreciate its validity.)
READ ALSO: FIND OUT what Estrada thinks of Duterte's 'name and shame' DRUG campaign
Will justice be served to those who died but were innocent? Will the end justify the means?
ard_is_grade:
"Dead man tells no tale. Duterte, as always, hitting below his weight limit. He is now after dead people too. What's he planning to do now give the fucking dead 24hrs to surrender and come clean (after all thats a lot of mud and decay) or else papatawan ng shoot to kill order? what is this? walking dead? Is this a new fear mongering direction; are we under a zombie apocalypse?"
On the other hand, according to a report from Rappler, the president takes accountability for any inaccuracy in the list he made known to the public.
"Any mistake of the military and the police dito (here), ako yung tagasalo (I will take responsibility). I ordered the listing, revalidation, I am the one reading it and I am the sole person responsible for the same," Duterte said. - RL, Kami Media
RELATED: Luzon 'drug politicians' claim INNOCENCE, seek audience with Duterte
Source: Kami.com.ph