- Personalities from Iloilo such as Governor Defensor and Senator Drilon raised some doubts on Duterte's statement that the province is the most "shabulized" in the country
- Defensor said that he would have to confirm with the PDEA and the PNP the basis of Duterte's label
- Drilon said that the entire province of Iloilo should not be negatively labeled as "shabulized" just because of a few officials allegedly engaged in the illegal drug trade
After President Rodrigo "Rody" Duterte commented on Sunday that Iloilo is the most "shabulized" province, officials from Iloilo expressed their doubts and disappointment in the President's negative label of their province.
"If he meant that Iloilo was the worst nationwide, I doubt that very much," Iloilo Governor Arthur Defensor said. He explained that he was unsure if Duterte meant that Iloilo was the worst in Western Visayas or the worst in the entire country.
However, Defensor said that he would confirm with the Philippine National Police (PNP) and the Philippine Drug Enforcement Agency (PDEA) if the President's label has any merit.
READ ALSO: FIND OUT what Estrada thinks of Duterte's 'name and shame' DRUG campaign
Duterte made the remark about Iloilo during his speech on Sunday, as he publicly named and shamed local government officials, policemen and other individuals who are allegedly involved in the illegal drug trade.
Included in the President's list of "narco-politicians" are officials from the Iloilo province which are Iloilo City Mayor Jed Patrick Mabilog, Calinog Mayor Alex Centena, Carles Mayor Salagunting Betita, and Maasin Mayor Mariano Malones Sr.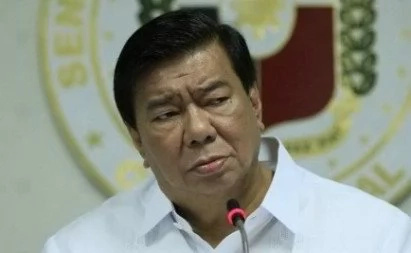 READ ALSO: De Lima challenges Duterte to produce evidence vs 'DRUG politicians'
Senator Franklin Drilon – who is also a native of Iloilo – lamented about the President's sweeping statement against the whole province of Iloilo. Drilon explained that a list of a few officials engaged in illegal drugs should not put into vain all of the efforts exerted in improving the different aspects of Iloilo.
"All the efforts of the Ilonggos for the past five years to make Iloilo an attractive and progressive investment destination and a livable city is negated by a sweeping judgment of the city and province of Iloilo. Whatever these officials may have allegedly done are their individual acts, and cannot be the collective guilt of the Ilonggos," Drilon said.
Although he supports Duterte's aggressive campaign against illegal drugs, Drilon said that the rule of law and the proper application of due process should be provided for the accused local officials.
One Iloilo radio station also posted a theory on social media, saying that labeling Iloilo as the "most shabulized" in the country could be a form of revenge on the province – a bailiwick of presidential candidate Mar Roxas – for providing a small amount of votes for Duterte in the recent presidential election. Duterte defeated Mar Roxas in a landslide victory in the May 9 polls– Kami Media
READ ALSO: DILG chief orders BATO to probe summary KILLINGS
Source: Kami.com.ph