- Hidilyn Diaz won silver in Rio Olympics weightlifting division
- Diaz first joined the Olympics eight years ago as wildcard entry
-  Diaz plans to accept the scholarship at Lindenwood University in Missouri, USA
Hidilyn Diaz became the first female and non-boxer athlete to win an Olympic medal for the Philippines.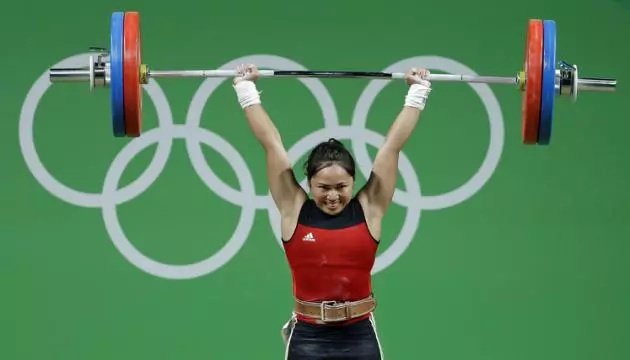 READ ALSO: VIDEO: Gymnast tries backward flips in Rio Olympics; his BRUTAL injury will SHOCK you!
Ending the country's 20-year Olympic medal drought by securing a silver medal in the women's 53-kg weightlifting division of the 2016 Summer Games on Sunday, Aug. 7 in Rio de Janeiro, Brazil.
Diaz failed to lift two of her three attempts and tallied just 88 kg for 6 place in a tough field led by China and Chinese Taipei.
Diaz successfully lifted 111 kg on her first attempt and 112 kg lift in her second attempt. She failed to lift 117 kg on her third attempt.
READ ALSO: Team Philippines looking strong in Rio Olympic Opening
The 25-year old from Zamboanga City, a bronze medalist in the 2015 World Weightlifting Championships and a gold medalist in Asia, recorded a total weight of 200 kg.
Chinese-Taipei's Hsu Shu-Ching won the gold with a total weight of 212 kg while Korea's Yoon Jin Hee took the bronze with 199 kg.
Diaz first competed in the Games eight years ago as a teenager and a wildcard entry. Her journey to Rio began in 2014, after a tough year dealing with losing her trusted coach and her boyfriend.
READ ALSO: Beautiful Rio escort girl shares her amazing plan how she would win "gold medal for sex"
In 2015, Diaz underwent proper diet, conditioning and preparations for these Games. The 58-day training camp in China capped off Diaz's preparations. Diaz was confident and determined to make her last Olympic run before heading to Brazil.
Diaz said that she planned to leave the Air Force and accept a scholarship at Lindenwood University in Missouri, USA prior to the Rio Olympics.
Source: Kami.com.ph