- With already 500 lives killed by policemen and unidentified gunmen, the President's all-out war against drugs seem to be victorious
- Innocent or not, people are being killed because the President has permitted the killings to end the illegal drug trade in the Philippines
- Various officials and human rights organizations have urged the President to halt the killings but there are still lives being taken away every day
Disclaimer: The views and opinions expressed in this article are solely those of the original author. These views and opinions do not necessarily represent those of Kami.com.ph, its editors, or other contributors.
WAG TULARAN, DRUG LORD AKO- These are the words written in every carton found on top of a dead body of an alleged pusher who was killed without due process by vigilantes who think the law is in their hands. The Philippines is experiencing a human rights crisis as extrajudicial killings are happening everywhere in the country. Unidentified gunmen are shooting people who are "allegedly" involved in the illegal drug trade in the country.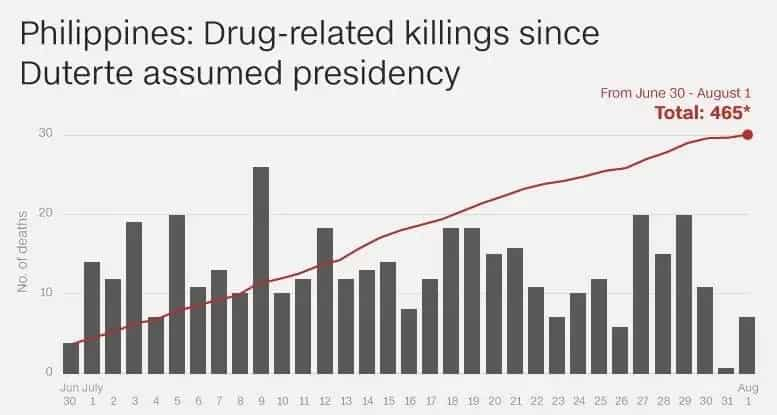 President Rodrigo Duterte has strongly campaigned his war against drug use in the country. On his first week as President, several names of the biggest drug lords were publicized. In the first 22 days of Duterte's iron fist, 239 drug suspects were slain in police operations. Some say that those who were killed are innocent but how are they going to defend themselves if thee carton put on top of their bodies say that they are pushers? Worse, they are already buried six feet under the ground.
Considering all of these, is it right to support the President in his war against drugs? Here are the 5 reasons why you "should".
1. HE SEEMS NOT TO CARE ABOUT YOUR LIFE AS LONG AS YOU ARE A "DRUG USER"
'Papatayin talaga kita (I will really kill you). Do not do it. Do not destroy my country because I will kill you. Do not destroy the young kasi iyon ang kapitan namin bukas (because they are our future),' the President said. Isn't this scary? Once your name is on their list or if you look like a druggie, then you should start praying for your life. The law is in their hands that is why those policemen have the audacity to shoot whoever they want to shoot. Those who are 'allegedly involved' in the illegal drug trade are considered as a disgrace to this great nation. Due process is not even important anymore because you are a criminal, hence you don't deserve to be given due process.
READ ALSO: FVR takes the first step to mending fences with China
2. VIGILANTES ARE EVERYWHERE AND YOU CAN BE THEIR NEXT HUNT OF THE DAY
Considering that the President does not care about your life as long as you are involved in the illegal drug trade, he also supports the killings of these criminals. Hence, vigilantes are coming out- ready to point their gun at your head and eventually pull the trigger that will cost your life. Those who were killed by these vigilantes are part of the marginalized, some are labeled as drug addicts while some are drug dealers. The President vowed to end the crimes in the country but this promise comes with the fear of having someone end your life as well.
3. INNOCENT PEOPLE ARE BEING KILLED
Whether you are just commuting or visiting a friend somewhere, innocent or not, the possibility of being labeled as a drug user or pusher does not diminish. The stories of these three people will make you want to support more the all-out war against drugs. Jefferson Bunuan, a 20-year old student, was killed because the police suspected that he was a lookout for a drug pusher so they killed him. People who knew Jefferson said that it is impossible for him to be linked to illegal drugs because the young man was a scholar and a criminology student who dreamt of being a police one day. However, those dreams won't come true anymore because he was killed by policemen he once looked up to.
READ ALSO: What kind of reactions did Duterte's roll of narco-personalities bring? Find out here
Further, Edmund Moon, another young man was shot dead along with his mother and three friends at Malabon public cemetery. He was only visiting his mother because it was his birthday but unidentified gunmen thought that maybe that should be his last birthday celebration because he is a drug pusher.
Emmanuel Pavia, an Ateneo High School math teacher was also killed by a lone gunman in Marikina. Some of the President's supporters are saying that just because he is a teacher and working in Ateneo does not mean that he can't be involved in the illegal drug trade. But how will we know if he was killed without due process?
Lastly, 27-year old Kristal Rosales was killed inside a jeepney by a fellow passenger. The gunman got off the public vehicle but when it stopped, Rosales was shot through the jeepney window. Note: Rosales was the executive assistant of the general manager of a popular fast food chain and she is also addicted to K-pop. Just saying.
4. THE INTERNATIONAL COMMUNITY IS RECOGNIZING THE PHILIPPINES
Several local and international human rights organizations have been calling for a stop to these killings, further urging the President to take the proper measures to prevent innocent people from being killed without due process. The Australian Drug Foundation and the Canadian Drug Policy Coalition pointed out that the President has allowed people to execute suspects without taking into consideration that they have rights, too. Last June, United Nations Secretary-General Ban Ki Moon condemned Duterte's support of the extra judicial killings. Recently, the New York Times featured the pressing issue of extrajudicial killings in the country together with a photo of an "alleged" drug pusher who was killed. These organizations are urging the President to stop the killings but why should he? He is the President of the Philippines after all.
READ ALSO: Netizens react as Duterte approves Marcos' hero burial
5. DUTERTE HAS A LOT OF SUPPORTERS SO WHY NOT JOIN THE BANDWAGON?
When he made that offensive remark to an Australian missionary who was raped, his supporters laughed and applauded. When he said kill them all, he was given cries of support and a big round of applause. When critics have called out the President's behavior, his supporters are there to defend him. If you are against the President, then better watch out for those hate comments that you will receive from the 'Die-Hard Duterte Supporters' which is led by the famous blogger Mocha Uson. With more than 16 million votes during the national elections, Duterte is indeed supported by many Filipinos, in and out of the country, so why don't we just all join the bandwagon?
Whether we like it or not, a lot of things has already happened in the country. A lot of lives have already been taken and there are more to be taken in the future. Maybe it's too early to judge the President for his choices and action, maybe not.
Disclaimer: The views and opinions expressed in this article are solely those of the original author. These views and opinions do not necessarily represent those of Kami.com.ph, its editors, or other contributors.
Source: Kami.com.ph