- Former President Fidel V. Ramos is slated to travel to China on Monday, August 8
- The office of the former confirmed the trip
- This will be FVR's first trip to China since his appointment as Philippines' special envoy
Former President Fidel V. Ramos will be flying to Beijing, China on Monday, August 8, to officially start his work as Philippines' special envoy to China.
Former President FVR, who has been specially requested by President Rodrigo Roa Duterte as the special Philippine envoy to China, is taking the first step to initiate talks with the Chinese authorities for a peaceful resolution to the territorial dispute concerning the West Philippine Sea.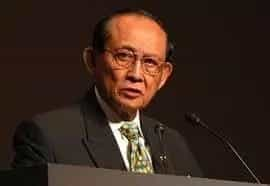 The Permanent Court of Arbitration (PCA) has upheld the Philippines' "power of control" over some areas in the West Philippine Sea on July 12, when it ruled in favor of the Philippines regarding the Philippine-instituted arbitral proceedings on the disputed seas.
READ ALSO: LOOK! DFA denies China's offer of conditional dialogue to PH
A few days before the first-month mark of the ruling made by The Hague-based Permanent Court of Arbitration in favor of the Philippines on July 12, the office of the former chief executive confirmed that FVR is, indeed, taking the trip.
Accompanying the former president to China is former Department of Interior and Local Government (DILG) Secretary Rafael Alunan, together with Chito Sta. Romana, and Sam Jones, grandson of the former President, who speaks fluently the Mandarin language.
READ ALSO: What will happen to China at the Asia-Europe summit
No other details were disclosed about Ramos' trip except that he will be flying as the Philippine government's representative to hold talks with Chinese authorities to identify ways and means for a peaceful resolution to the ongoing maritime dispute between the two countries - the Philippines and China.
RELATED: LOOK: PH victory vs China celebrated by Vietnamese nationals
Source: Kami.com.ph