-Filipino-American hurdler Eric Cray has his eyes on the prize as he hopes to bring the Philippines its first gold medal
-As the representative for the 400m hurdle dash, Eric Cray has created a reputation for being a record holder of 49.40 seconds, an impressive time he held during the 2015 SEA Games
-During the 2015 SEA Games, Cray faced controversy for wearing sweats that were sewn with an inverted Philippine flag which he, later on, apologized for not seeing right away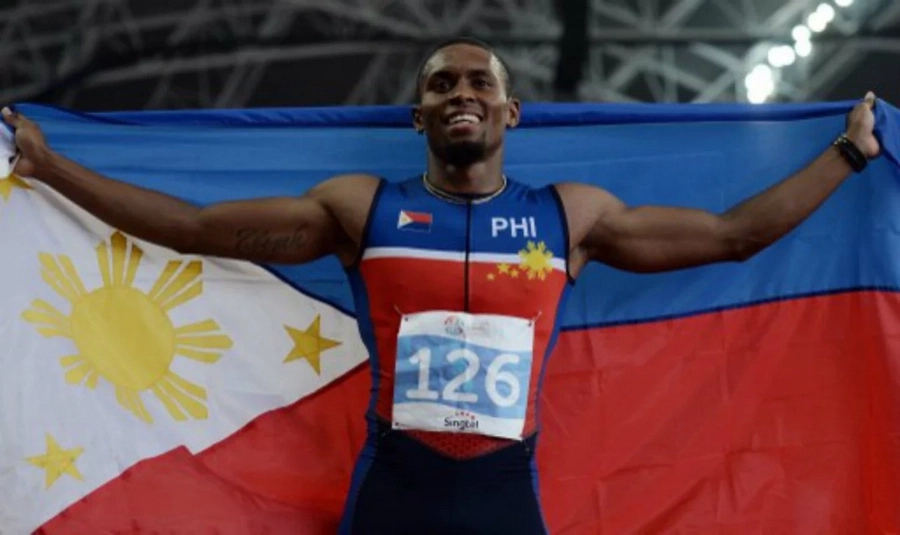 photo: Rappler
MANILA, Philippines - Eric Cray, a Philippine athlete who is a record holder in the Southeast Asian Games, is eyeing on bringing the Philippines its first ever gold medal as he hopes to reach the finals of the 400m hurdles in his first Olympic appearance at Rio de Janeiro.
Eric Cray is popular for holding an impressive record of 49.40 seconds in the 400m hurdles during the 2015 SEA Games.
Cray, now 27, was born in Olongapo City but has spent most of his years in the United States.
READ ALSO: First Filipino table tennis player qualifies for 2016 Olympics
He arrived from El Paso, Texas on Friday morning taking about 17 hours just to get to Rio in time to join the rest of the Philippine delegation for the opening ceremony.
He is yet to see any action until August 15 where he hopes to qualify for the finals set.
When asked about his travel, he said that it was funny how he traveled 17 hours for a race that wouldn't last 50 seconds.
READ ALSO: Team Philippines looking strong in Rio Olympic Opening
"The trip was pretty long, and I'd be racing like 50 or 49 seconds," he said. Cray said he was excited about a couple of other things — and they don't include seeing the world's "fastest man," Usain Bolt. "I've seen him in a lot of meets. I've been used to it so it's not gonna be too exciting for me. I'm not gonna be too excited to see him," he added.
He then went on saying that he is looking forward to seeing some NBA players.
After setting his impressive record during the 2015 SEA games, Cray was dubbed as the fastest man in Asia.
READ ALSO: Duterte to PH Olympians: 'Just try your best'
This time around, he is eyeing on being the fastest in the world after training in preparation for the Summer games in Rio de Janeiro.
During the 2015 SEA Games, the Filipino-American was involved in controversies due to a wardrobe malfunction where the Philippine flag was apparently sewn invertedly on his sweats.
He later on apologized for not recognizing the mishap right away.
READ ALSO: Pornstars were caught having sex on Rio de Janeiro Olympic beach!
Source: Kami.com.ph