- A man who is known for handling and rescuing snakes died because of a snake bite
- The man from Galle was found lifeless with snake bites on his left hands while a cobra who has bitten him was alos found dead inside a cage
- The man does his snake rescues voluntarily and he is not part of any organization
The irony was at its finest as a known rescuer of countless of snakes died yesterday morning near his house in Galle due to a snake bite.
Amal Wijesekara, 47, was found dead with visible bite marks on his left hand while the cobra that is believed to have bitten him was also found lifeless in a cage.
'Amal Ayya' was famous in his place for catching intruding snakes from the houses' gardens. He looks for a suitable place for his captured snakes, but if he does not found a location, he takes the snakes home and keep them inside a cage until he finds a way to release the snakes in the wild.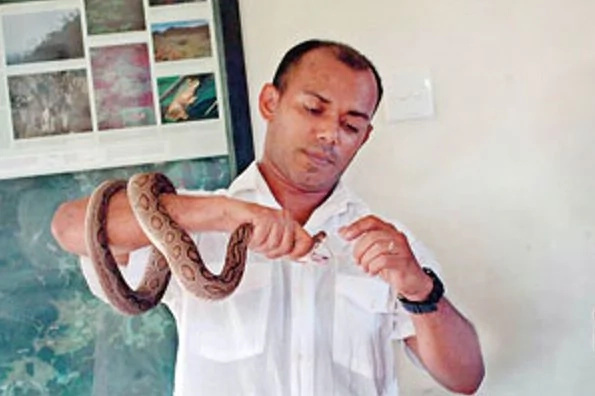 READ ALSO: This 6-foot snake was finally caught after 3 months of hiding
There are some instances when the snakes Amal has rescued are beaten by people out of terror that is why he still had to nurse them and treat their wounds before releasing them in their habitat.
Amal is not part of any organization and does his rescues voluntarily. He has saved many snakes that are about to be killed by people who are not educated on how to get rid of these snakes, especially the venomous ones.
The National Geographic team has also asked for Amal's technical assistance for their fieldworks that involve snakes. He has also trained top soldiers in the field when it comes to handling and surviving snake encounters.
READ ALSO: Watch this horrifying video of a King Cobra's snack time!
Colombo University's Faculty of Medicine Professor Ariaranee Gnanathasan looked back at Amal. Being a good man and said: "Amal was very competent at handling snakes… Amal is a good man and it is sad to hear of his untimely loss."
Anjana Silva, one of Amal's colleagues, shared that the man has caught a new species of Hump-nosed Viper from Galle about nine years ago. In order to honor his death, they named it after him and proposed the name Hypnale sp. "amal" or Hypnale amali. - Kami Media
READ ALSO: Watch this video of a snake that bit a dog's penis and won't let go!
Source: Kami.com.ph