- A video of a fitness guru doing her workout routine went viral when her two huskies tried to interfere
- The dogs were licking the woman's face, bumping into her bums, and pawing her throughout her workout
- The video has already gained more than 2 million views on Facebook
Our dogs would probably be the clingiest pets, from waking us up in the morning, eating lunch and dinner with us, and slipping under our blankets before going to bed. But Kayla Itsines, a famous fitness guru was surprised when her two huskies joined her in a workout session.
The video of Kayla's workout featuring her dogs was uploaded on her Facebook page and gained more than 2 million views. In the video, she was doing her Bikini Body Workout routine most probably for one of her fitness pages when her two dogs suddenly interfered.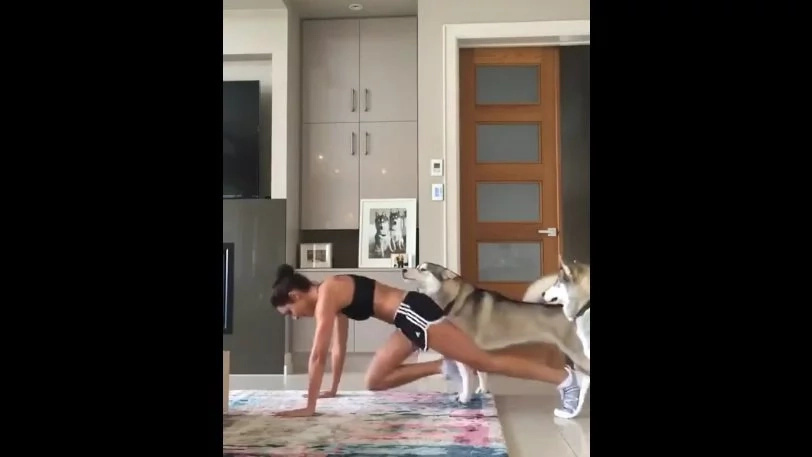 READ ALSO: VIDEO: This kid gained his Taekwondo white belt for being too cute
The dogs, TJ and Ace, looked curious on what their mom is doing that's why they stayed with her throughout the video. They were seen bumping into Kayla's bum, pawing and licking her face, and even just looking at her.
Kayla's already difficult routine become more difficult as her curious dogs interfered. In the end, Kayla just stopped her workout and cuddled with her adorable dogs.
READ ALSO: Love is blind: Uganda's Elephant Man awaits for his eighth child
Kayla is known for her Bikini Body Training Guide which has effective fitness training programs for all ages. She has been an internet sensation for gaining millions of followers in Twitter, YouTube, and Instagram. Kayla has posted photos of her clients' before and after figures which eventually led her to gaining more audience in social media.
She then started to respond to her followers' queries and gave them advice about fitness and health. But before being in the fitness limelight, she took up personal training courses at the Australian Institute of Fitness in 2008.
She is now followed by celebrities, models, and athletes because of her effective fitness programs. - Kami Media
READ ALSO: PHOTOS: This dog has the worst case of abuse
Source: Kami.com.ph