- A video of an adorable kid who was taking his test to break a board for a Taekwondo white belt went viral on social media
- The video already gained 14 million views on YouTube
- Netizens were so much charmed by the kid's cuteness as he constantly screams "AYA!" but still fails 
Martial Arts is definitely a serious matter because it requires focus, power, and strength. But this Taekwondo session turned into such adorable event when a video of a kid who attempts to break a board was uploaded on YouTube.
The video from Peak Taekwondo & Fitness Center has already gained more than 14 million views and still counting most probably because of the little kid's cuteness as he takes his first test to gain his white belt.
The 3-year-old kid seemed really eager to break the board that he even stomped at it several times. He used all his power from his hands and even kicked the panel away. The room was filled with laughter from his classmates and the other people watching as he constantly shouts "AYA!" but still fails.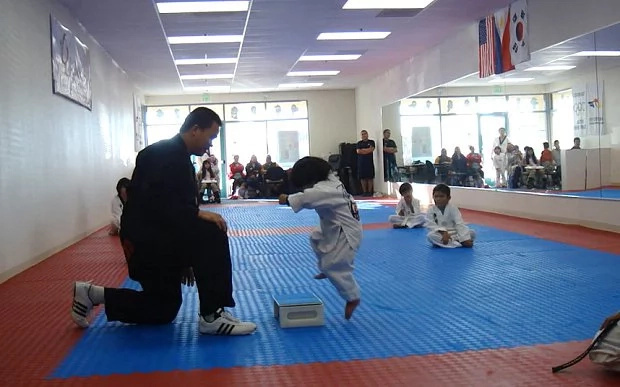 READ ALSO: This woman delivered two babies, but she had no clue she was pregnant!
After many attempts, he finally passed the exam and broke the board. The teacher gave him his white belt and everyone in the room clapped for him, well including him.
Netizens all over social media were charmed by the adorable kid. One YouTube user said: "He will kill you with his cuteness." Another commented: "This kid is going places, not martial art tournaments, but places."
Here are the other video comments:
READ ALSO: VIDEO: Wife watches her husband of 5 years ditch her for a FLIRTY young girl!
"That kid is cute, the best part is when he broke it and everyone started clapping the kid also clapped"
"That was the cutest thing ive seen in a minute"
"whoever dislikes this is a MONSTER!!!!!!!!!"
READ ALSO: Moment when woman, dumped in phone box as newborn baby, found her saver 22 years after is so inspiring
"The boy on the right clapping at 1:48 is the sweetest thing. Passion for his fellow classmate."
"The best karate kid ever"
Get them started early! Nice work youngster!
The same video was also uploaded on Facebook and currently gained 73,000 likes and almost 150,000 shares. - Kami Media
READ ALSO: Angry mother blames doctor's malpractice for baby's huge wound
Source: Kami.com.ph