- President Rodrigo Duterte promised to release a list of government officials, judiciary, and PNP officials who are allegedly involved in illegal drug activities
- Earlier Sunday morning, Duterte releases a list of the names
- The list includes mayors, former public servants, PNP officials, and judges
Early Sunday morning, August 7, President Rodrigo Duterte revealed a list of officials who allegedly protect and are involved in illegal drug trade.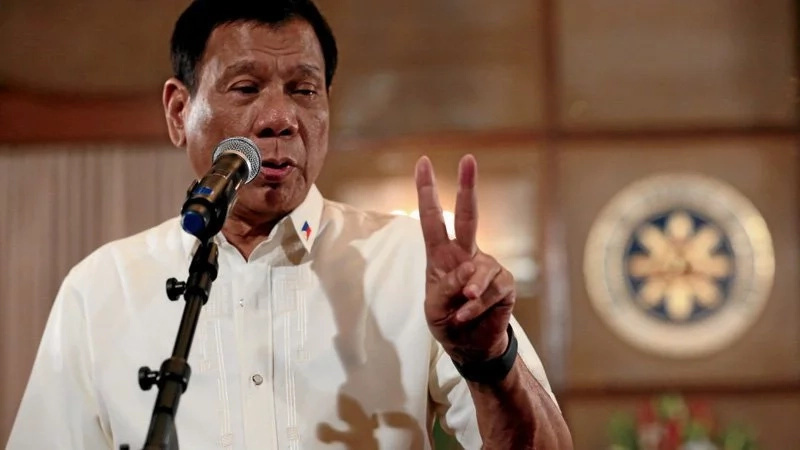 The President named eight judges, more than 50 sitting and former mayors and vice mayors, and 40  police officers allegedly involved in the drug trade. After announcing the names, all active law enforcement officials were relieved
'This is not personal to me. Hindi ko kayo kalaban. Wala kong samang loob sa inyo. Pero galit na ako ngayon,' the President said.
(This is not personal to me. I am not your enemy. I don't have bad feelings toward you. But I am angry now.)
Although some of them are his friends, Duterte did not exclude them from the list. The President said that he would rather read all the names than selectively pick and choose.
Furthermore, Duterte ordered all weapon permits granted to the named officials be annulled.
Below is the list as read by President Duterte:
READ ALSO: Duterte belittles communists & calls Joma Sison 'arrogant!'
Judge Mupas of Dasmarinas Cavite
Judge Reyes (only known) - Baguio City
Judge Savilo - RTC branch 13 Iloilo City
Judge Casiple - Kalibo, Aklan
Judge Rene Gonzales - MTC
Judge Navidad - RTC Calbayog City
Judge Exequiel Dagala - MTC
Judge Dapa - Siargao
Mayor Reynaldo Flores - Naguilian, La Union
Mayor Dante Garcia - Tubao, La Union
Mayor Martin De Guzman - Bauang, La Union
Mayor Marjorie Apel Salazar - Lasam, Cagayan
Mayor Goto Violago - San Rafael, Bulacan
Mayor Marino Morales - Mabalacat, Pampanga
Mayor Felix Castillo - Langiden, Abra
Ex-Mayor Eufranio Eriguel - Agoo, La Union
Mayor Jesus Celeste "Alias Boying" - Bolinao, Pangasinan
Mayor Jose "Pepe" Miranda - Santiago City, Isabela
Mayor Vicente Amante - San Pablo City, Laguna
Mayor Ryan Dolor - Bauan, Batangas
Vice Mayor Edgardo Trinidad - El Nido, Palawan
READ ALSO: Senator Alan Cayetano defends Duterte against De Lima's speech
Mayor Alex Centena - Calinog, Iloilo
Mayor Julius Ronald Pacificador - Hamtic, Antique
Mayor Jed Mabilog - Iloilo City
Mayor Sigfredo Betita - Carles, Iloilo
Mayor Mariano Malones - Maasin, Iloilo
Ex-Mayor Michael Rama - Cebu City
Mayor Hector Ong - Laoang, Northern Samar
Mayor Rolando Espinosa - Albuera, Samar
Mayor Beda Canamaque - Basay, Negros Oriental
Ex-Mayor Madeline Ong - Laoang, Northern Samar
Vice Mayor Francis Ansing Amboy - Maasin, Iloilo
Fralz Sabalones - San Fernando Cebu
Antonio Pesina - Iloilo City
Erwin "Tongtong" Plagata - Iloilo City
Ex-Congressman JC Rahman Nava - Guimaras
Party-list Rep. Jeffrey Celis
Ex-Mayor Abubakar Abdukarim Afdal - Labangan, Zamboanga del Sur
Mayor Gamar Ahay Janihim - Sirawai, Zamboanga del Norte
David Navarro - Pagadian City, Zamboanga del Sur
Bobby Alingan - Kolambugan, Lanao del Norte
Yusofa Monder Bugong Ramin - Iligan City, Lanao del Norte
Jessie Aguilera - Alegria, Surigao del Norte
Mayor Fahad Salic - Marawi City
Mayor Mohammad Ali Abenal - Marantao, Lanao del Sur
Jamal Dadayan - Buadiposo-Buntong, Lanao del Sur
Sabdullah Macabago - Saguiaran, Lanao del Sur
Muslim Aline Macadatu - Lumbatan, Lanao del Sur
Rasul Sangki - Ampatuan, Maguindanao
Montaser Sabal - Talitay, Maguindanao
Vicman Montawal - Datu Montawal, Maguindanao
Samsudin Dimaukom - Datu Saudi Ampatuan, Maguindanao
Norodin Salasal - Datu Salibo, Maguindanao
Ex-Mayor Benahar Tulawie - Talipao, Sulu
Reynaldo Parojinog - Ozamiz City
Nova Princess Parojinog Echavez - Ozamiz City
Mayor Omar Solitario Ali - Marawi City
Vice Mayor Abdul Wahab Sabal - Talitay, Magundanao
Otto Montawal - Datu Montawal, Maguindanao
Nida Dimagkon - Datu Saudi Ampatuan, Maguindanao
Arafat Salic - Marawi City
Rasmiyah Macabago - Saguiaran, Lanao del Sur
Congressman Guillermo Romarate, Jr. - 2nd District, Surigao del Norte
Former board member Ricardo Parojinog - Misamis
READ ALSO: Duterte plans to 'SHOOT and KILL' these people; find out who they are
Here are active and retired law enforcement officers:
P/Insp. Rolando Batulayan (ret.)
P/Supt. Maristelo Manalo - PNP-CIDG
PCI Roberto Palisoc - Station 7 MPD
P/Supt. Ciceron Ada (ret.)
PCI Eric Buenaventura - Navotas
PO2 Geraldine Bautista Manuel - PNP PRO2
SPO3 Ronald Calap - Isabela PPO
POC Rodel Samoledo - Lalio Police Station
PO3 Cecilio Domingo - Nueva Ecija CIDT
PO2 Ryan Mendoza - Tarlac Police Station
Jeffrey Serafica - Butuan PPO
PO1 Norman Adarlo - Puerto Galera NPS
Mark Canete - RSRPSB MIMAROPA
PO1 Mark Christian Catalina - PNP Camarines Norte
PO2 Alan Carpio PCP - 8 Pasay City
PO3 Eric Lazo - QCPD Station 6
PO3 Alexander Macabeo - PCP 3 Paranaque City
PO3 Johnny Mahilum - QCPD Station 6 Batasan
PO2 Celito Melendrez - Binangonan Police Station
Gen. Vicente Loot (ret.)
Gen. Valerio (ret.) - Santa Barbara, Iloilo
Gen. Bernardo Diaz - Region 6
Gen. Idio - RTC of Calbayog City
P/Supt. Floro (ret.) - Antique City PNP
P/Supt. Kashmir Disomangcop - COP of Iloilo Base Commander
P/Supt. Delia Paz - Chief RDIDM
P/Supt. Genepa - RIU Intelligence
P/Supt. Ipil Duenas
P/Supt. Condag
P/Supt. Eugenio Malic - PNP Maritime Group
Lamsis - former chief Antique anti-drug
P/Supt. Gomboc
P/Supt. Lebin
PCI Maymay
PSI Kenneth Militar - Iloilo
PSI Donasco
P/Insp. De Jose - SOG PNP Region 6
P/Insp. Duarte - former PCOP of Arevalo, Iloilo
P/Insp. Vicente Vicente - COP Banate
P/Insp. Romeo Santander - Former chief intel Cebu
PO2 Michael Cortez - Barile Police Station
SPO1 Jen dela Victoria - PS5 Cebu CPO
SPO1 Onel Nabua - Barile Police Station
PO2 Jomar Ibanez - Lapu-Lapu Police Station
PO3 Ryan Martus Kiamco - Cebu Provincial Office
PCI Ibrahim Jabiran - Zamboanga CPO
PCI Perfecto Abrasaldo Awi Jr. - Misamis Oriental
P/Insp. Roy Montes - Iligan PRO
P/Supt. Ricardo Gando Pulot - COP Quezon Bukidnon
P/Insp. Martin Plaza - former Panabo chief intel
PO1 Pierre Dizo - Zamboanga del Sur
PO3 Omar Juani - Zamboanga City Public Safety
Rommel Mansul - PRO9
PO3 Daryl Page - Tabasan Municipal Station
SPO1 Totong Joe Valdez - 9th RNG
SPO4 Rodrigo Ramos - Bukidnon PRO
SPO1 Reynaldo dela Victoria - CDO
SPO3 Emilio Mendoza - Lozaria PP5 Iligan City
Marlo Espinosa - Bukidnon
SPO3 Richie Mat - CIDG Mati Davao Oriental
SPO3 Rosell Iliviera - CIDG Tagum Davao del Norte
PO3 Jessie Balabag - Region 11
PO3 Filomeno Toronia - Digos Police Station
PO1 Glenn Alicarte - PRO 12
PO1 Philip Pantarolia - Tacurong City Police Office
SPO1 Gerry dela Rosa - SCPPO
PO3 Bebot Ruiz - GSCPO
PO3 Estelito Solanio - Malongon MPS Sarangani
PO1 Jerebel Ocsio - PRO RMN
SPO1 Ernesto Billones - NCR
JS1 Lito Montemayor - Roxas District Jail Aparri
PO1 Vicente Reynaldo Celis - NCR
PG Drexel Saet - MIMAROPA
SPO1 Felix Tubil - Region 3
SPO3 Nicolas Ponce Angeles - Region 3
SPO2 Rod Erseni - Marinduque BFP
FO1 Reynaldo Valencia - Claveria Police Station
SSgt. Vic dela Cruz - MIMAROPA
B/Gen. Leoncio Daniega - NCR
SPO3 Gerry Mendoza - NCR
Reymante Dayto - Region 5
Reymar Dayto - Region 5
Renato Zamora - Region 6
J1 Alan Manatad - Region 7
SPO3 Christie Cielo Tingad - Region 7
RSAD Casimiro Castro - CAFGU 38IB 6ID ARMM
RSAD Pfc. Philip Miro - 40IB 6ID ARMM
Cpl. Cusinan Lopez - 52IB ARMM
Pfc. Mamadali Ipad - 64IB 6ID
Yasin Abolgalib
JO1 Alfredo Ogacho
FO1 Nicolas Ponce Ablaca
FO1 Ricardo Ibanez
Marine Cpl. Alfrenz Gurias Abedin
Jimmy Manlangit - Region 12
- Kami Media
Source: Kami.com.ph