- President Rodrigo Duterte insisted that the late president Ferdinand Marcos should be buried at the Libingan ng mga Bayani
- Duterte said that the strongman has served the country as a former soldier and a former president which makes him qualified for the honor
- The National Historical Commission of the Philippines (NHCP) has released a pamphlet opposing the claims of ex-senator Bongbong Marcos regarding his father's service
President Rodrigo Duterte insisted that the late President Ferdinand Marcos deserves a burial at the Libingan ng mga Bayani because he has been a former soldier and president of the Philippines.
Duterte, in a press conference early this morning in Davao City, said that he will allow the remains of the strongman to be buried at Libingan saying: "As a former soldier and former president of the Philippines, I see nothing wrong in having [former President Ferdinand] Marcos buried at the Libingan ng mga Bayani."
Ex-senator Ferdinand "Bongbong" Marcos Jr. said that the burial of his father's remain will be a week after the dictator's 99 birth anniversary. From Ilocos Norte, the remains will be transferred at the Libingan ng mga Bayani in Taguig City as the president has already given him the go signal.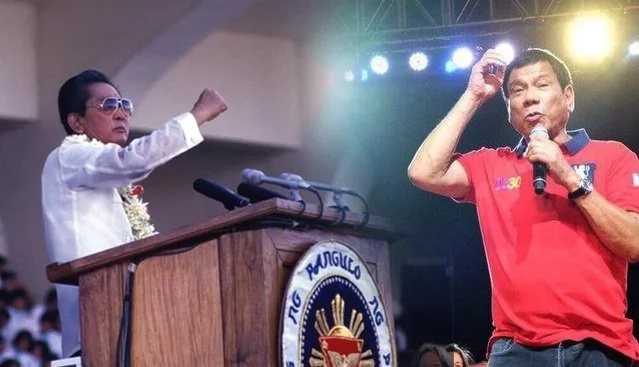 READ ALSO: Duterte gives go signal to Marcos' hero burial
The president, a close friend of Marcos Jr., has been in favor of the burial of the strongman's remains in the Libingan, saying that Marcos had been a great Philippine president and "a hero of the country." The younger Marcos claimed that his father is deserving of the honor mentioning that he has served the country as a soldier for World War II.
Meanwhile, the National Historical Commission of the Philippines (NHCP) released a 17-page pamphlet which disputed the claims of Marcos, pointing out that the dictator, as a WWII soldier, has been reportedly questioned by the United States Military.
In addition, Ang Mga Maharlika, Marcos' guerilla unit, and his promotion from a major to lieutenant in 1940's was said to be unrecognized.
READ ALSO: BREAKING: SC grants Marcos' prayer for PPO; summons Robredo
Various groups have opposed Duterte's approval of Marcos' Libingan burial. Last June, victims of Martial Law inscribed names of abused and murdered people in stones during the dictatorship and laid those on the grave reserved for the strongman.
70,000 people were imprisoned, 34,000 were tortured, and 3,240 were killed during Marcos' time, according to Amnesty International. - Kami Media
READ ALSO: Shocking ways Bongbong Marcos turned the table on his father's critics
Source: Kami.com.ph