- As the new leadership in the Philippines has started, there are new laws that were passed that will hopefully improve the system in the country
- Issues such as texting while driving and age discrimination in employment were addressed by the country's legislators and now their efforts have paid off
- Some of the new laws that were passed involve supporting the deaf community through subtitles and protecting the rights of Filipina women
1. Republic Act 10883 or the New Anti-Carnapping Act of 2016
RA 10883 or 'An act providing for new anti-carnapping law of the Philippines' has made it non-bailable for people who committed the offense. Further, this new law will require the Land Transportation Office to keep record of all the card and their owners in the Philippines. As for the punishment, RA 10883 increased the imprisonment time to 20 to 30 years in jail from the previous 17 years and four months of imprisonment.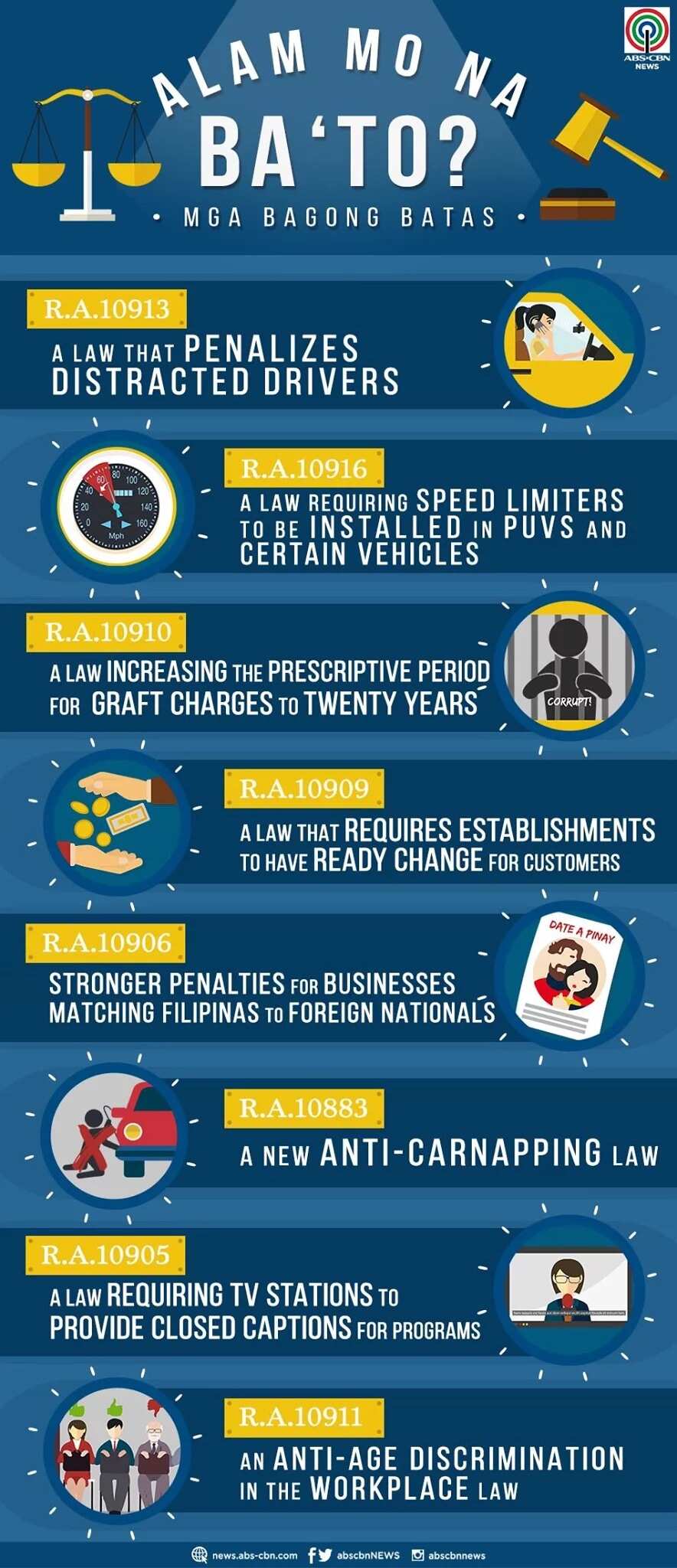 2. Republic Act 10905 or Law on Mandatory Subtitles
RA 10905 or 'An act requiring all franchise holders or operators of television stations and producers of television programs to broadcast their programs with closed captions option, and or other purposes' is the new law which makes in mandatory for TV stations to put subtitles to give the hearing-impaired community full access to the information on the show. While this is required for TV stations, franchise holders or TV station operators and program producers are exempted their pub service announcements are only under 10 minutes or if it is proved that text captions would be too costly. Failure to follow will either be fined with at least PHP 50,000 but not more than PHP 100,000 or will be jailed for at least six to twelve months.
READ ALSO: Duterte gives go signal to Marcos' hero burial
3. Republic Act 10906 or Anti-Mail Order Spouse Act
RA 10906 or 'An act providing stronger measures against unlawful practices, businesses, and schemes of matching and offering Filipinos to foreign nationals for purposes of marriage or common law partnership, repealing for the purpose republic act no. 6955, also referred to as the 'anti-mail order bride law' will punish any person who has engaged in activities that exploit Filipinas through offering them to foreigners for marriage. Those who are found guilty will be imprisoned for 15 years and be fined with at least PHP 500,000 but not more than PHP 1 million. Further, the government will deport foreign offenders to their home country.
4. Republic Act 10909 or No Shortchanging Act of 2016
Establishments who will not give back your due change would be punished under RA 10909 or 'An act prohibiting business establishments from giving insufficient or no change to consumers and providing penalties therefore'. Stricter rules regarding prices would involve requiring establishments to stick price tags with the exact price the consumer needs to pay. Moreover, first offense would incur PHP 500 or 3% of gross sales and second offense would incur PHP 5,000 or 5% of gross sales. On the last offense, the offender will have to pay a fine of PHP 25,000 and have to stop operations of the establishment.
READ ALSO: Duterte belittles communists & calls Joma Sison 'arrogant!'
5. Republic Act 10910
RA 10910 or 'An act increasing the prescriptive period for violations of Republic Act no. 3019, otherwise known as the 'anti-graft and corrupt practices act' from fifteen (15) years to twenty years, amending section 11 thereof' amended the prescription of offenses from 15 to 20 years.
6. Republic Act 10911 or Anti-Age Discrimination in Employment Act
This law compels employers to deny any promotion, training opportunities, compensation, and privileges on the basis of the age of employees. RA 10911 or 'An act prohibiting discrimination against any individual in employment on account of age and providing penalties therefore' further prohibits labor organizations to refuse a person's application for a job due to his or her age. Violation of the law would lead to a fine of at least PHP 50,000 but not more than PHP 500,000 and/or a three to 2-year imprisonment.
7. Republic Act 10913 or Anti-Distracted Driving Act
Any person who would use their mobile phones for either work purposes or non-emergency cases will face a fine of PHP 5,000 (first offense, PHP 10,000 (second offense), and PHP 15,000 and suspension of license for 3 months (third offense) under RA 10913 or 'An act defining and penalizing distracted driving'.
READ ALSO: She wrote her husband a touching letter as her plane was crashing. And then…
8. Republic Act 10916 or Road Speed Limiter Act of 2016
This new law is 'An act requiring the mandatory installation of speed limiter in public utility and certain types of vehicles' will make it mandatory for public transportation vehicles to have a speed limiter. Those vehicles who do not have any speed limiter will be needing to install one within 18 months after the law takes effect. Failure to do so would result to a fine of PHP 50,000. - Kami Media
Source: Kami.com.ph