- President Rodrigo Duterte vowed that he will end the mining and logging industries in the country
- Duterte said that he will push the decline of the said industries though he knows that many powerful people will stop him from doing so
- Department of Environment and Natural Resources (DENR) under Secretary Gina Lopez has already suspended at least six mining and logging operations since July
President Rodrigo Duterte vowed on Thursday, that the mining and logging industries in the Philippines will dwindle under his administration.
During the Mindanao Environment Summit in Davao City, where Environmental Secretary Gina Lopez was also present, Duterte promised that he will end mining and logging in the Philippines though many powerful people will try to stop him.
"Many will get mad, many will get angry, many would like to maintain the status quo. They are already in power, maybe elected officials, appointed, they will hang on to that. Kaya dahan-dahan kong sisirain 'yan (That is why I will slowly destroy it.)," Duterte said.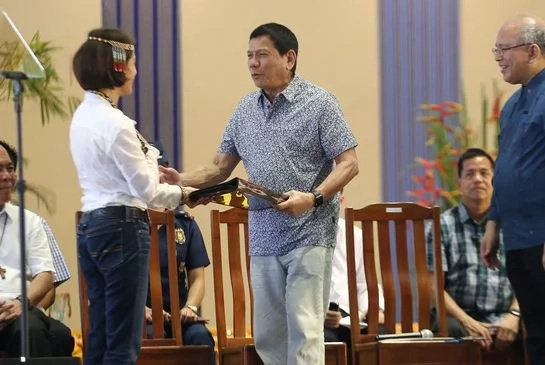 READ ALSO: Duterte threatens to shut down Congress; find out why
The president also mentioned that mining including logging is a "sunset industry" and that it should be finished. He added that these two industries are also destructive to the environment and that the government can do away with these sources of economic growth.
He also explained that declining the mining and logging industries in the country will open opportunities to the Filipinos regardless of tribe, race, and religion.
The president referred to the mining and logging as "historical injustice" of oligarchs who profit from Mindanao's resources. He then said that the wealth of the nation should be reconfigured amongst the citizens.
Lopez also encouraged the Filipinos to protect the environment as she said during the same event: "I need your help to protect our environment. We need your help. Let us do our share for our environment."
READ ALSO: Duterte wants a "killer" to head PCSO?
She added that the Department of Environment and Natural Resources (DENR) is set to have a closer working relationship with stakeholders and that this will make DENR not only a regulatory agency but an agency that activates change.
DENR, under Secretary Lopez, has already implemented suspensions of at least six mining company operations since the audit of the existing mines took place in the previous month. - Kami Media
READ ALSO: Mocha Uson's appointment in Bureau of Customs creates social uproar
Source: Kami.com.ph