- The Constituent Assembly (Con-ass), composed of both houses of Congress, is planning to amend the Constitution
- Duterte threatened all self-serving lawyers to make proper changes or else he would shut down Congress
- This change in Constitution is a first step towards Duterte's plan to shift the government into a federal system
President Rodrigo Duterte issued a strict warning to lawmakers who plot to amend the Constitution for their own personal interests.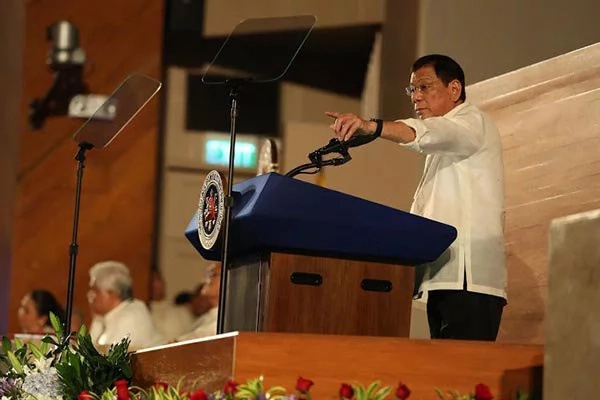 Duterte told lawyers he would shut down Congress if they did not amend the Constitution correctly.
READ ALSO: Duterte plans to 'SHOOT and KILL' these people; find out who they are
'Mamili kayo. You do it properly. Huwag mo lokohin ang tao. 'Pag pinilit 'nyo 'yan, sarado kayo lahat' the President on Wednesday eveningsaid in front of the members of the Parish Pastoral Council for Responsible Voting in Malacañang.
(You choose. You do it properly. Don't fool the people. If you insist on pushing for your interests, I will close you down),
The Constituent Assembly (Con-ass), who is planning to change the Constitution, is composed of legislators both from the houses of Congress. They will be convening to amend the 1987 Constitution.
READ ALSO: VIDEO: Erap finds DRUG DEN below police precinct in Binondo!
Originally, Duterte was planning for a Constitutional Convention but backtracked when he learned that it would cost the government within a range of P10 billion to P50 billion.
Nevertheless, the President is pushing for a Constitutional change as part of grand plan to implement a government shift to federalism.
Duterte threatened self-serving lawyers not to abuse their power when amending the Constitution.
'I will never ever allow it. Sabihin ko talaga, 'huwag 'yan kasi 'pag pinilit niyo 'yan sasarhan ko Congress. Huhulihin ko kayong lahat.' Mamili kayo. Totoo,' he said.
(I will never allow it. I will tell them, "Don't push it, because if you do, I will close down Congress. I will arrest all of you." You choose. I am not joking.)
READ ALSO: Duterte wants a "killer" to head PCSO?
Duterte further added that any amendments proposed would be discussed through a plebiscite.
Last July 25, Duterte expressed in his State of the Nation Address that he plans to implement a federal system within the Philippines much like that in France – a government with a President and a Prime Minister.
The plan to implement federalism is on the top of Duterte's agendas. If the shift is implemented in the next 4-5 years, the President said he is willing to step down. - Kami Media
Source: Kami.com.ph