Man set to marry his model girlfriend who suffered severe burns
- Australian model Turia Pitt suffered burns in a bushfire while competing in a marathon which took away her good looks
- Despite her accident, Pitt's boyfriend Michael Hoskin stayed with her, he quit his job to take care of her and then finally asked her hand for marriage
- Pitt is now an engineer, an author and a motivational speaker
The story of Turia Pitt, a woman who suffered burns to 65% of her body, and her boyfriend Michael Hoskin has gone viral.
Pitt was an athletic girl who was popular for her good looks. As a matter of fact, she was a model. She was also in a very happy relationship with her partner Michael Hoskin.
READ ALSO: Erap finds DRUG DEN below police precinct in Binondo!
In 2011, she competed in an ultra-marathon in Australia. During the event, Pitt was caught in a bushfire while competing.
She suffered burns to 65% of her body. Her right thumb and her left hand's four fingers also had to be amputated by the doctors. Due to her unfortunate accident, she sued the organizers of the event and was given an out-of-court settlement.
Her good looks disappeared in an instant. Would her boyfriend – who fell in love with her when she was still physically beautiful – leave her now after the serious accident?
Hoskin's response to that question has melted the hearts of many people around the world.
"I married her soul, her character, and she's the only woman that will continue to fulfill my dreams," the loving boyfriend said.
READ ALSO: Here are 9 famous married CELEBRITY COUPLES who got an annulment
Aside from staying as Pitt's boyfriend, Hoskin also quit his job in order to take care of his girlfriend full-time.
Despite all that she has lost, Pitt continues to exceed expectations. She is no longer a model, but she is now an engineer, a humanitarian, a motivational speaker, and an author.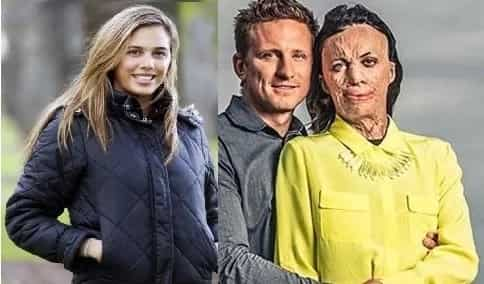 In 2014, she also received the New South Wales Premier's Award for Woman of the Year. She is also one of the most prominent Interplast Australia & New Zealand ambassadors and has even graced The Australian Women's Weekly cover.
Michael Hoskin also continued to prove his unconditional love for Pitt, as he announced that they were engaged to be married in the near future. –Kami Media
READ ALSO: This old man singing a love song to his DYING 93-year-old wife will break your heart
Source: KAMI.com.gh