- Mayor Estrada and his team found a drug den below a police community precinct in Binondo, Manila, during a clearing operation of street vendors
- Several drug paraphernalia was found and one suspected drug pusher was arrested
- The chief of the police community precinct was sacked due to his failure to discover the drug den near his office
During a clearing operation of informal settlers in Binondo, Manila on Wednesday led by Mayor Joseph "Erap" Estrada, the police were able to discover a drug den under a bridge and a police community precinct along Juan Luna Street. Several drug paraphernalia were found and one suspected drug pusher was arrested.
Binondo Philippine National Police (PNP) Chief Superintendent Amante Daro dismissed the Police Community Precinct (PCP) Chief Inspector Luis Guisic on the spot for failing to know about the existence of the drug den under his office.
According to the sacked police officer, he failed to discover the drug den because of the several makeshift stores covering the area. However, he pointed out that his team was able to arrest some drug pushers in the area in recent weeks.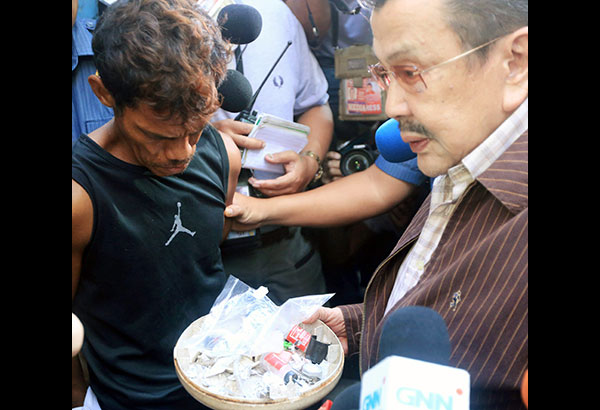 READ ALSO: Was Mocha Uson appointed as Customs 'consultant?' Find out what the BOC Chief said
"Last week and before, may huli tayo diyan. Hindi naman natin sinasadya na hindi natin malaman dahil nagko-cover-an s'ya ng vendor," Gusic explained.
(Last week and before, we were able to arrest some people in that area. We did not discover the drug den because it was being covered by vendors.)
READ ALSO: Lacson: There were 600 vigilante KILLINGS in July alone, not 180!
Daro said the evidence found inside the drug den shows that the place was frequently visited by drug users.
Mayor Estrada also reprimanded the barangay officials in the area for not being aware of the drug den near the police precinct. Estrada initiated the clearing operations to improve the traffic situation in the city.
"They should be the first to know who the pushers are in their community," Estrada said.
The alleged drug pusher arrested was 50-year-old Robert Rehio, who tried to hide from the police but was still captured. Rehio denied the accusations. The cops are also looking for Rehio's wife, who is also accused of being a drug pusher. - Kami Media
READ ALSO: De Lima condemns Duterte's 'shoot to KILL' order!
Source: Kami.com.ph