- This nun died smiling and her photo went viral in various social media channels
- She is Sister Maria of St. Joseph Monastery in Argentina
- People said she is a very happy nun and must have relished the thought of dying
Nuns live a life of simplicity. They would give up all their possessions to comply with the vow of poverty they take the moment they enter the order. Some nuns are serious, others are jovial, but Rev. Sister Cecilia Maria is different. She is a superbly happy nun! Such was her happiness that she died with a wide smile on her face (literally).
Sister Maria was 43 years old when she died. She was the happiest nun around considering that you can hardly see her without her signature smile.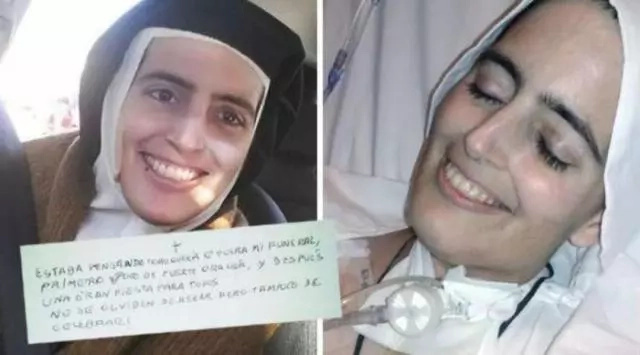 People who knew Sister Maria attest to her happy disposition, and how her presence brightens the room where she is.
READ ALSO: Pastor dies after fasting for 30 days trying to beat Jesus' record
When she was diagnosed with cancer of the tongue about six months ago, she was informed by her doctor that the disease has already spread to her lungs. She was even given an ultimatum with regards to how long she will still be able to live.
Sister Maria must have used the time that the doctor gave her to reflect upon her life and to prepare to meet her creator. There was no indication that the thought of dying ever saddened this happy nun.

READ ALSO: World's worst dad? Father makes fun of his little boys who accidentally got drunk
One thing's for sure, she died happy. In fact, she died smiling literally. Looking at her picture, you'll never guess that she has already died in the photo.
Did Sister Maria feel that she was about to go and the mere thought of breathing her last made her really happy? Did she see Jesus just before she breathed her last?
READ ALSO: Student uses slipper as eraser
Nobody knows for sure. The only definite thing that you can gather from Sister Maria's photo was that she died smiling literally.
She served Joseph Monastery in Santa Fe, Argentina for 13 years. – SD, Kami Media
Source: Kami.com.ph