- A video of an Australian woman opening her door to a crocodile and feeding it inside her home has gone viral
- It turns out that the crocodile is the woman's pet kept in her backyard
- According to experts, keeping a crocodile as a pet is dangerous even if the animal grew up in a domestic environment
What would you do if you find a crocodile on your doorstep? Most people would react by calling the authorities for rescue. However, Vicki Lowing of Australia is not like most people.
A video of Lowing entertaining a crocodile by opening her door to the reptile and feeding it with chunks of raw chicken has become a viral sensation.
It turned out that the crocodile is actually Lowing's pet named "Jilfia," which has been bred in captivity and raised in a domestic environment with a lot of humans around. Most people prefer cats or dogs as their pets. But as mentioned earlier, Lowing is not like most people.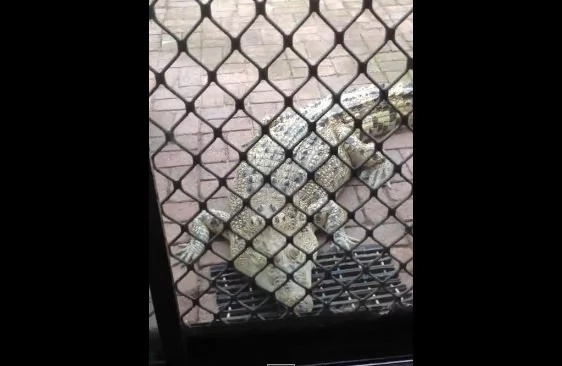 READ ALSO: 5 Mysterious & SCARY creatures spotted in real life!
"Here is Jilfia, my 'pet' Saltwater Crocodile, demanding to be fed at the back door of my home, and when allowed, will also venture inside my home for more food," the Australian exotic pet owner posted
And as a good pet owner, Lowing makes sure that the crocodile has a comfortable home and a safe enclosure.
"Jilfia, who is very intelligent and was captive bred, has been raised as a "pet" in a domestic environment. However, she does have her own home (complete with an artificial environment and large pool of heated water) situated in an enclosure in my backyard," Lowing added.
READ ALSO: Wife watches her husband of 5 years ditch her for a FLIRTY young girl!
However, animal experts say that crocodiles always have a potential to go wild and hurt humans despite growing up in a domestic environment.
Animal experts explain that crocodiles are too strong and too unpredictable to tame and keep as a pet. Serious injuries and even death can result from interacting with a crocodile.
However, owners who have plenty of experience handling reptilian pets and those who have enough space and money to set up a secure enclosure and adequate food are the only ones capable of keeping a crocodile as a pet.
Watch this unbelievable video and SHARE it your family and friends! - Kami Media
READ ALSO: Mom with an angel voice sings a song to her BABY; what the child does will AMAZE you!
Source: Kami.com.ph