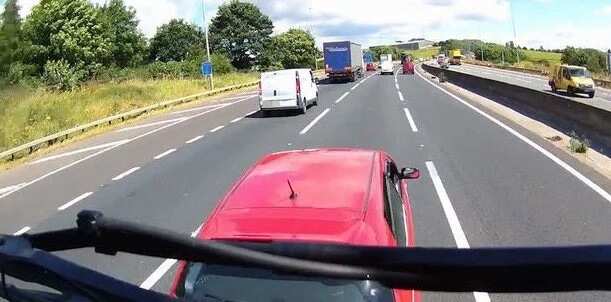 - This accident happened on a West Yorkshire highway 
- A red Honda driver swerved infront of a 44-ton truck and got rear ended
- The truck driver warns about the dangers of cutting off trucks
This red Honda driver got what was coming when he swerved mere meters in front of a 44-ton truck and slammed the brakes.
The truck, being the massive juggernaut it is, couldn't stop from colliding into the rear of the cheeky econobox.
Just as they move to the far left curb the Honda slams the breaks again, again forcing another collision.
The driver of the truck Dave has been driving trucks for 40 years and this is what he thinks about the situation.
READ ALSO: Mother adds daughter to sexchat with boyfriend!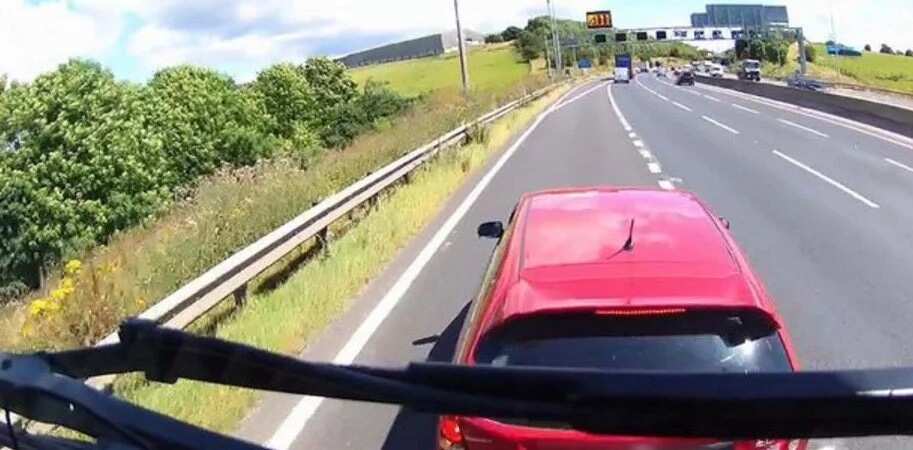 "This clever dick is a young fella, and to be fair to him I was probably a cocky thing myself back in the day, and at that age you don't think you can do anything wrong.We all make mistakes but that wasn't a mistake it was done on purpose, it was ridiculous.The guy clearly decided 'I'm going to teach that driver a lesson'. I jumped on my brakes but didn't want someone to then go into the back of me such I just stayed in the middle lane and you can see I backed off. When I saw what he did I just thought 'what a clown'," says Dave.
He added: "Most truck drivers deal with this on a daily basis - some people just don't want us on the roads. It's dangerous driving - in the worst case scenario someone could get killed."
"Drivers like this are not only putting themselves at risk, but also the truck driver," Dave warned.
READ ALSO: She lied to doctors and saved her childs life! 
READ ALSO: Watch a dangerous stunt gone wrong on America's Got Talent!
Source: Kami.com.ph