- Students shatter glass doors of library to get to the Office of the Chancellor
- Students are demanding to junk the new Student Academic Information System (SAIS)
- This is the first time that SAIS was used in University of the Philippines – Los Baños enrollment
The first day of classes in University of the Philippines – Los Baños was troubled with protests and discontent when students forcefully entered the Office of the Chancellor on Wednesday, Aug. 3, to express their grievances on the newly implemented enrolling system.
Several students were reportedly injured when they shattered the main doors of the university library housing the Office of the Chancellor. The administration reportedly ordered to close the doors at 2PM denying the students to see the official. Students have gathered in front of the library calling for junking the Student Academic Information System (SAIS).
READ ALSO:JRU student leaves FETUS on the street
SAIS is a data management system that seeks to "integrate and harmonize the Information and Communication Technology (ICT) infrastructure and system across all constituent universities (CUs) of the UP System." It is part of UP President Alfredo Pascual's P752-million flagship program called eUP, which is the way to modernize and computerize UP system.
According to the students protesting, the Chancellor denied meeting the students for a dialogue. They were told that the Chancellor was not in UPLB, but the students later learned that he was in a meeting.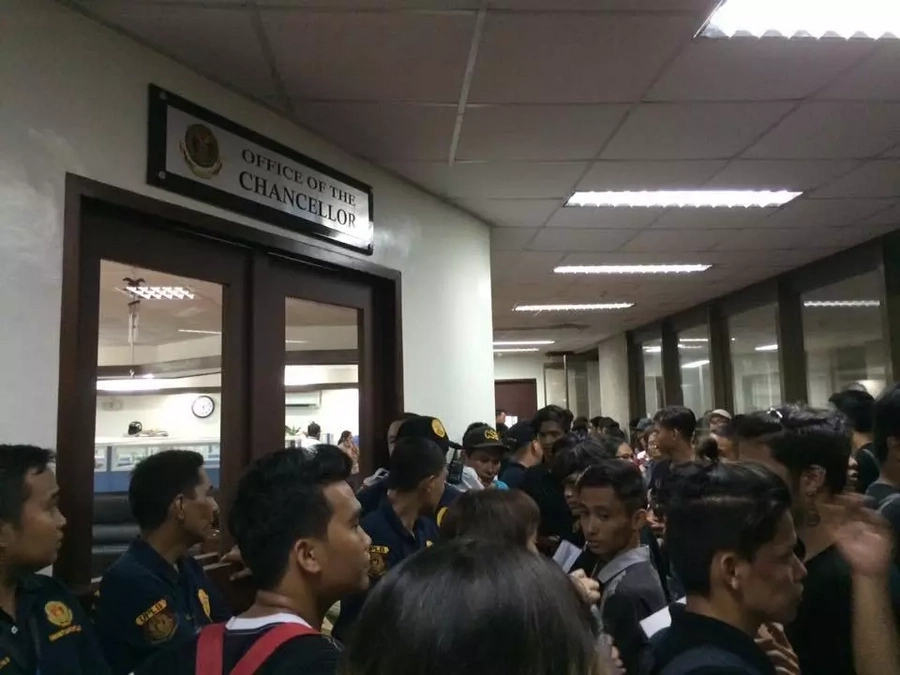 After the incident, members of the UPLB police were stationed outside the Office of the Chancellor to prohibit the entry of students.
READ ALSO: SHOCKING! Oral sex on dog – Quezon university freshman student's ordeal during initiation
UPLB students have camped out in school grounds to enroll their preferred classes after the system bogged down for two days starting July 29 due to a Denial of Service (DoS) attack, prompted by overwhelming traffic.
UPLB University Student Council Chair Merwin Jacob Alinea said that students went to the Physical Sciences (PhySci) building after the announcement that they could access SAIS using UP network as prevention to another DoS attack.
This is the first time that UPLB implemented SAIS. Students took to social media their complaints regarding the new online registration system.
READ ALSO: ADMU President on extrajudicial killings: Respect every person's life
Source: Kami.com.ph