- In a buy bust operation in Leyte, several employees of Rolando Espinosa Sr were caught with P1.9 million worth of shabu
- Philippine national Police (PNP) chief Director General Ronald 'Bato' dela Rosa said he would have given a 'shoot on site' order if the mayor didn't surrender himself
- The mayor's son, Kerwin, is also an alleged drug dealer and is currently at large
In a press conference at Camp Krame, Philippine national Police (PNP) chief Director General Ronald 'Bato' dela Rosa said he would have killed Rolando Espinosa Sr., a mayor of Albuera town in Leyte, if he would not have surrendered to the police.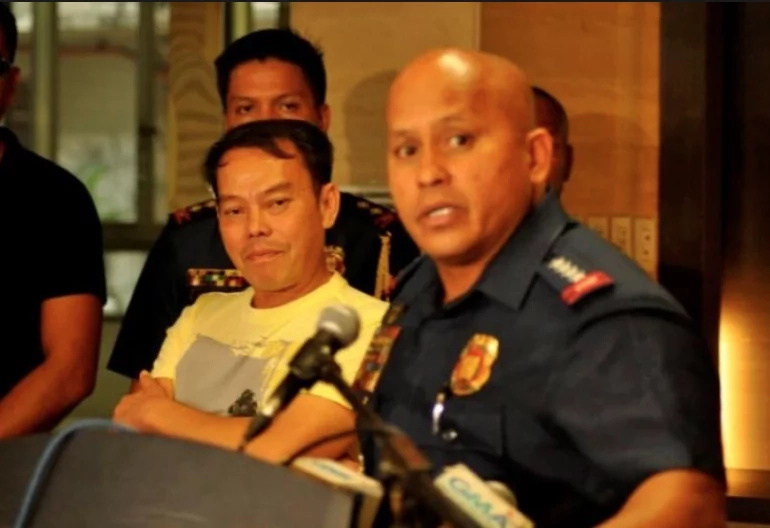 'Kung hindi ito siya nag-surrender at may armas… papatayin ko talaga ito,' said the PNP chief.
(If he did not surrender and was armed, I would have killed him).
READ ALSO: Duterte drug war continues: 2 suspected drug users killed in Cebu City
The Leyte mayor surrendered to the police after his son Kerwin Espinosa was accused of harboring drug dealers.
On Monday evening, President Rodrigo Duterte gave an ultimatum to Espinosa: if the they mayor would not turn himself in within 24 hours, the President would issue a "shoot on site" order for the mayor and his son.
Mayor Espinosa is charged with being linked to illegal drug trade after more than P1.9 million worth of shabu was confiscated in a sting operation near his house. Several of the drug dealers included Espinosa's bodyguards and employees.
Several other drug dealers sought refuge in the home of Kerwin.
READ ALSO: A DRUG-free PH is possible under Duterte's admin – Lacson
Espinosa turned himself to the police in Camp Crame on Monday, August 1, because he was scared of dying
'Natakot talaga ako kasi gusto kong mabuhay,' Espinosa said.
(I got scared because I want to live).
. When PNP Chief dela Rosa interrogated Espinosa, the mayor confessed that his son is a drug lord supplied by Peter Co.
Peter Co is a Chinese drug dealer currently being detained at the New Bilibid Prison.
READ ALSO: 6 killed in Leyte Mayor Espinosa's house raid
A "shoot on site" has been issued for Kerwin, who is still at large.
'Ang hahawakan lang namin diyan is that alam namin na siya'y drug lord...at pag siya ay pupuntahan ng pulis at pag siya'y lumaban...'wag siyang lumaban 'pag [ayaw niyan] mamatay,' dela Rosa said of Kerwin.
(The shoot-on-site order is based on our knowledge that he's a drug lord. If the police go to him and he fights back…. Well, he shouldn't fight back because he will be killed.)
When asked if the mayor used drug money for his campaign, Espinosa readily denied it.
READ ALSO: Duterte's drug war covered in Korean news
'No. I used my own money. My family is in the US. I have my mother, my sisters, my brothers.... They helped me during election time,' he added.
However, the PNP Chief Dela Rosa believes that the Mayor most likely used drug money for his campaign.
Source: Kami.com.ph