Duterte to give AFP P500M for building, equipment
- President Rodrigo Duterte promised a P500 million worth of fund for the equipment and new building for the Armed Forces of the Philippines (AFP)
- He also discussed other benefits that will be given to the military such as free education for their children and retired soldiers due to injuries from operations will still be paid for two to three years
- Duterte has been visiting military camps in Luzon and Mindanao on his third week in the position
President Rodrigo Duterte vowed on Tuesday, a P500 million worth of fund that will soon be released for the Armed Forces of the Philippines (AFP).
Duterte said that the fund will be allotted for the "state-of-the-art" equipment and a new building for the military. The half a billion money will also be for the renovation of an old building and for a new hospital building in AFP Medical Center.
"Magpasalamat tayo kay Secretary Diokno, ibinigay niya ho lahat ang gusto ninyo na mga equipment," Duterte said as he spoke to soldiers and military doctors in AFP Medical Center.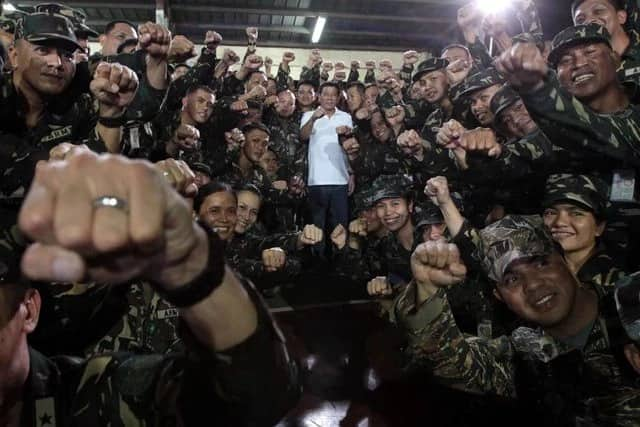 READ ALSO: WATCH: Duterte's drug war covered in Korean news
(Let us thank Secretary Diokno for giving you all the equipment you want.)
Budget Secretary Benjamin Diokno was present in the event and has also agreed to releasing the funds, according to the president.
Duterte mentioned about a building that is not suitable anymore for soldiers' confinement, and said that he will give them a new building which he will refit. The hospital is also set to receive medical equipment such as Magnetic Resonance Imaging (MRI), CT Scan, and others for surgical operations.
READ ALSO: VIDEO: Duterte gets teary-eyed as he hugs a BLIND soldier!
He also said that he will be pushing for changes in the hospital's internal procedures, saying that he has been receiving complaints from the patients.
He said: "There will be changes in your internal procedure. There were complaints even about the medicines. There will be changes. I will insist on it,"
He then stated that the equipment and the building should be ready by December.
READ ALSO: Recto calls on Duterte admin to stop 'endo' in government offices
The president also made a promise to the soldiers, saying that the government will pay for their children's education, though he did not specify the level of education that will be covered. He also said that if he has his way, soldiers who are injured from operations and who are forced to retire will still be paid for two to three more years before they are given pension.
Duterte has been visiting military camps in Luzon and Mindanao on his third week in the position, assuring the military of his support and loyalty. - Kami Media
READ ALSO: LOOK! NDF blames AFP for the delay in reciprocating President Duterte's ceasefire
Source: KAMI.com.gh