Duterte appears in Korean news program
- President Rodrigo Roa Duterte, once again, attracted the attention of international media
- Duterte's war against drugs worsens overcrowding in prisons
- Duterte has been featured by international media even during his presidential campaign
President Rodrigo Roa Duterte appeared in South Korea's primetime news program.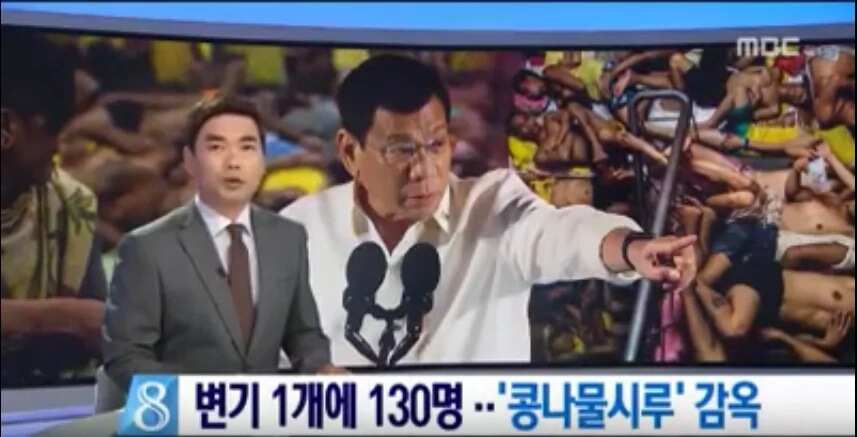 MBC News reported on Duterte's war against drugs. Photos of overcrowded prisons went viral and were picked up by several international media organizations. The images showed that the lack of space in Quezon City Jail that houses more than 3,800 inmates. The jail was built six decades ago with a capacity for 800 prisoners.
READ ALSO: VIDEO: Duterte gets teary-eyed as he hugs a BLIND soldier!
Overcrowding in prisons is nothing new for the Philippines and the government has been called out by various sectors to mitigate the problems in prisons like health and security issues. According to the latest statistics from PNP, over 400 drug suspects have been killed and over 600,000 have surrendered under the government efforts against drugs.
In June, South Korean Ambassador to Manila Kim Jae-Shin affirmed South Korea's support to the president's fight against criminality in the country. The South Korean government has expressed its willingness to reinforce cooperation with the Philippines in securing peace and order through joint projects such as capacity-building in police investigation.
READ ALSO: Leyte Mayor surrenders after Duterte set 24-hour deadline
Being covered by international media is nothing new for the newly-elected Philippine president. Even during his electoral campaign, international media has been following Duterte and reported his amusing take on running the country. US media outlets even compared him to Republican presidential bet Donald Trump.
Duterte's amusing character and his radical views on drug-related killings never failed to turn the heads of the international audience.
Watch the news report in South Korea below.
READ ALSO: READ: Duterte still pushing for a Con-ass despite opposition from the public!
Source: KAMI.com.gh