VIDEO: Duterte gets teary-eyed as he hugs a blind soldier
- A video of a teary-eyed President Duterte hugging a blind soldier at the AFP General Hospital has become an internet sensation
- The blind soldier is Lt. Jerome Jacuba, who lost his eyesight due to an explosion in Maguindanao
- Jacuba is set to learn how to use braille and is also up for a promotion
A video of President Rodrigo "Rody" Duterte getting emotional and teary-eyed as he hugged a blind soldier during his special visit to the Armed Forces of the Philippines (AFP) General Hospital on V. Luna Road, Quezon City has gone viral.
Reports say that the 28-year-old blind soldier, Lieutenant Jerome Jacuba, lost his vision after an improvised explosive device (IED) exploded during a military operation in Maguindanao months ago.
The explosion caused a total loss of vision in his right eye and a retinal detachment in his left eye where he only experiences minimal light perception. One of Jacuba's doctors – Major William Recuenco – said that the young officer has a wife and two children.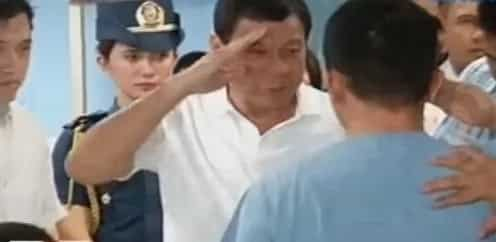 READ ALSO: DOJ to investigate why illegal DRUGS thrived in Bilibid during Aquino's admin!
Recuenco said that Jacuba would soon begin studying how to read using the braille and that he is also set to be promoted as a first lieutenant.
The video shows Duterte shaking the hands of Jacuba and other injured soldiers. Jacuba reacted to the President's presence by standing up, giving him a salute, shedding some tears and hugging his Commander in Chief. Duterte got emotional during their encounter and was teary-eyed as well.
READ ALSO: Evidence points to Pagdilao and Tinio's involvement in drug trade
Duterte has visited several military camps to show them their support and to promise them that he will defend and protect them if they get into trouble with prosecutors and officials due to their faithful performance of their sworn duties.
The President also explained to them that his administration is willing to have peace talks with rebel groups such as the New People's Army, Moro Islamic Liberation Front and Moro National Liberation Front but not with criminal groups like the Abu Sayyaf.
"As I talk to the communist, I will talk to the MI (Moro Islamic Liberation Front), MN (Moro Islamic Liberation Front), and all the armed groups there. Hindi kasali ang Abu Sayyaf (The Abu Sayyaf is not included). I will not talk with criminal," Duterte told the soldiers in Lucena City, Quezon. - Kami Media
READ ALSO: Pac-Man meets The Punisher! WATCH Pacquiao visit Duterte in Malacañang
Source: KAMI.com.gh