Elderly woman drives Uber for a living
- 63-year old Nanay Leticia works as an Uber driver to support her children
- Her case has caused booking problems as people usually cancel their trip after seeing her profile
- Francis Samonte became a passenger of Nanay Leticia who decided to share her story on the internet
After numerous years of striving to provide a comfortable life for their family, elderly people are expected to relax and reap what they sowed during the earlier time.
Unfortunately, that is not usually the case as even those who have long surpassed the retirement age continue to work just to make ends meet. An example of this is Nanay Leticia – despite already reaching the age of 63, is forced to work as a driver of Uber.
Her story was shared on Facebook by Francis Samonte, the chairman of the Toyota Auto Club of the Philippines. Samonte narrated that he decided to book a ride from Uber after he was done with his medical check-up at Manila Doctors Hospital. However, little did he expect that his driver would be an elderly woman.
READ ALSO: Watch: Stunning dashcam video of this mysterious and beautiful road!
At first, Samonte convinced himself that the woman only appeared to be old on her photo on the app. But after entering the vehicle and asking about Nanay Leticia's age, he proved himself wrong.
Curious and concerned, Samonte chatted with the senior citizen about the reasons for her chosen line of work. According to Nanay Leticia, driving was the only job she could afford to do and how it was a necessity since one of her sons was unemployed. Furthermore, she quipped that she had no savings.
In an interview with Top Gear Philippines, Samonte explained that Nanay Leticia was initially driving a UV Express Van until it was sold. It was then that she managed to land her stint at Uber but still faces challenges such as her struggles of being booked. After seeing her profile, riders often cancel their trip. Aside from that, she couldn't enjoy her full earnings since the car she uses doesn't belong to her.
READ ALSO: You won't believe what this couple did after a Filipino dropped her IPHONE!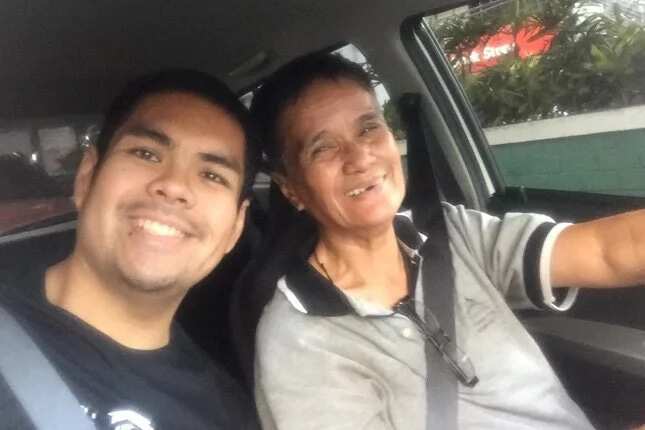 Samonte could not help but feel sad and disappointed after hearing Nanay Leticia's situation. He noted how parents are willing to do everything they could just for the survival of their children, no matter how old they are.
As he reached his destination, Samonte handed Nanay Leticia a bonus for the day – who even refused to accept it at first. The teary-eyed elderly woman became the recipient of prayers and a five-star rating.
READ ALSO: Look what this flight attendant did after offering a mother and her baby a ride!
Uber is a transportation option that allows people to book rides through their smartphones. Commuters can avail their services by downloading the app and inputting where they would be fetched and dropped off. Although it has its fair share of issues in the country, it remains to be a convenient way of travelling in the metro.
Source: KAMI.com.gh