- The Presidential Electoral Tribunal (PET) has released a statement on Tuesday, August 2, granting Bongbong Marcos' prayer for a precautionary protective order (PPO) 
- The PPO was petitioned in relation to Marcos' electoral protest regarding Robredo's proclamation as the duly-elected vice president
- In addition to the PPO, PET also issued an official Summons for Protestee Leni Robredo
The Supreme Court, acting as the Presidential Electoral Tribunal (PET) on Tuesday, August 2, has released a statement which grants Ferdinand "Bongbong" Marcos' prayer for a precautionary protective order (PPO) to Commission on Election (COMELEC) and at the same time, issues a summon to Protestee Leni Robredo .
The PPO which was petitioned by Marcos from the tribunal in relation to his electoral protest invoked Rule 36 of the 2010 PET Rules.
Rule 36 of the PET Rules says:
This details the steps to be undertaken "to safeguard the integrity" of all the paraphernalia used in the elections. This includes all functioning clustered precincts in the country as well as the collection, retrieval, transport, and delivery of the paraphernalia, storage devices, and equipment.
(Photo credit: politics.com.ph)
Also covered in Marcos' urgent manifestation and omnibus motion is the preservation of the integrity and safety of all the ballots, ballot boxes, voters' receipts, election returns (ERs), computerized voters' list, audit logs, transmission results, log files and other documents and paraphernalia - including the vote counting machines (VCMs), consolidation and canvass system (CCS), digital cards and other electronic data and ballot image storage devices, and other related equipment - used in the May 2016 elections.
READ ALSO: VIDEO: What does President Duterte has to say about 'Eat Bulaga?'
According to the statement, the manifestation which was acted upon in the PET's session on Tuesday, July 12, part of the electoral protest filed by Marcos' camp on July 28, which contests the proclamation of Leni Robredo as the duly elected vice-president on two grounds.
According to Atty. George Erwin Garcia, Marcos' counsel who filed the electoral protest, the protest claims that Robredo's vice-presidential proclamation is "null and void because the [certificates of canvass] generated by the CCS are not authentic, and may not be used as the basis to determine the number of votes that the candidates for vice-president received."
The protest also noted that the vice-presidential race had been subjected to "massive electoral fraud, anomalies, and irregularities... and an abnormally high" unaccounted votes/undervotes for the position of VP."
READ ALSO: LOOK: Duterte and Robredo's romantic encounter during NSC meeting!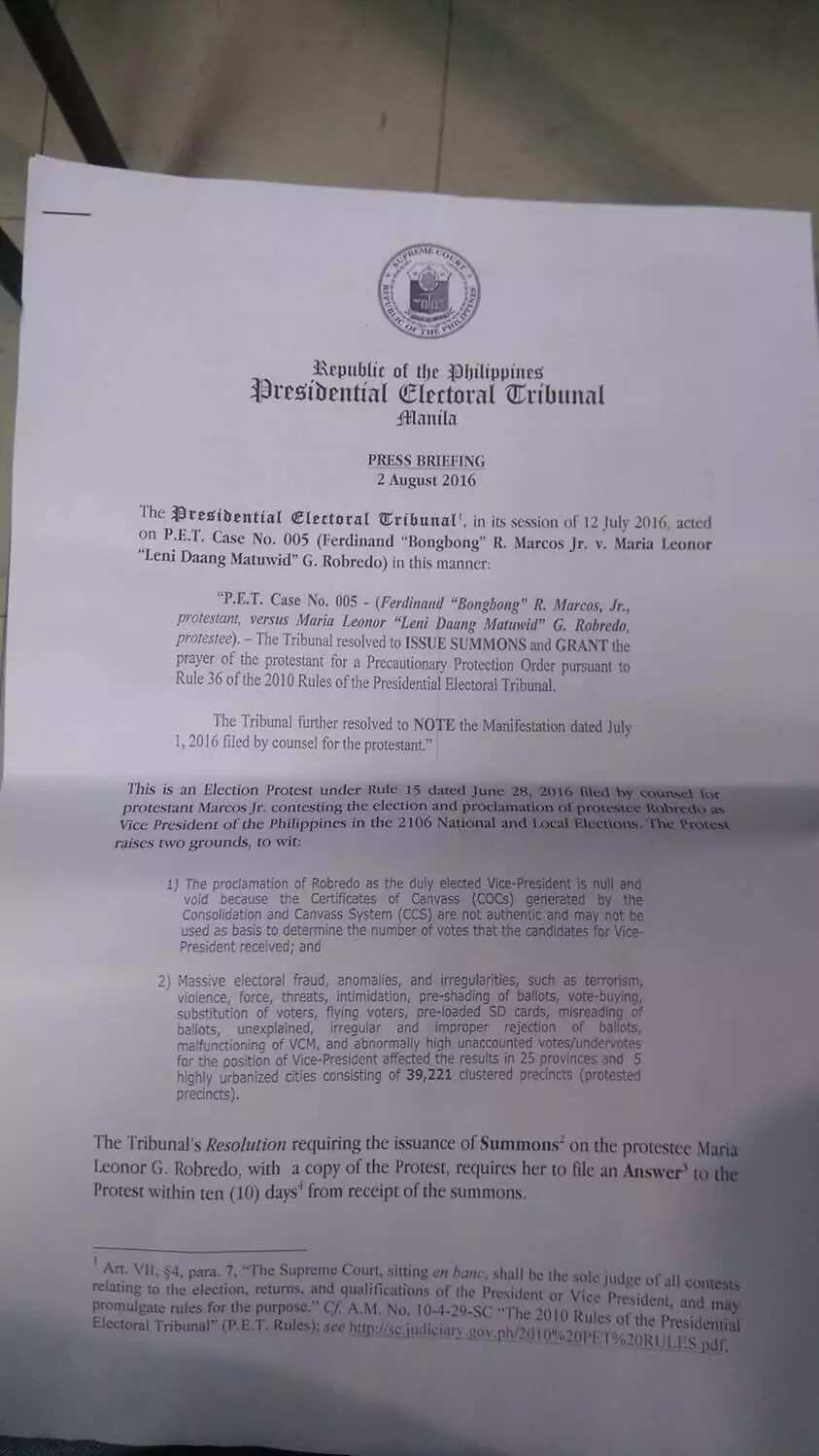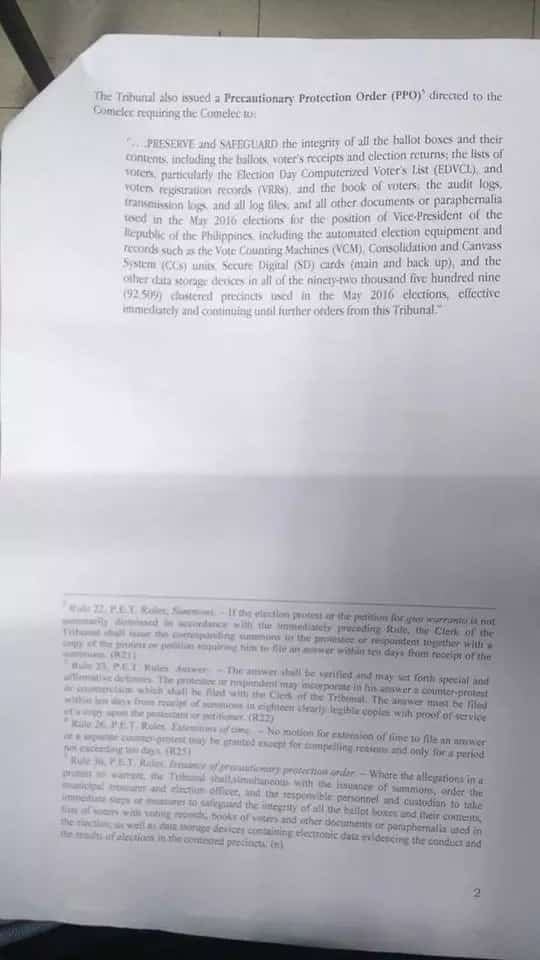 Also included in the statement released by PET is the "issuance of an official Summons on the protestee, Ma. Leonor Robredo," which requires her to "file an Answer to the protest" in 10 days from its receipt. - Kami Media
RELATED: LOOK! Leni Robredo slams Marcos' election protest!
Source: Kami.com.ph