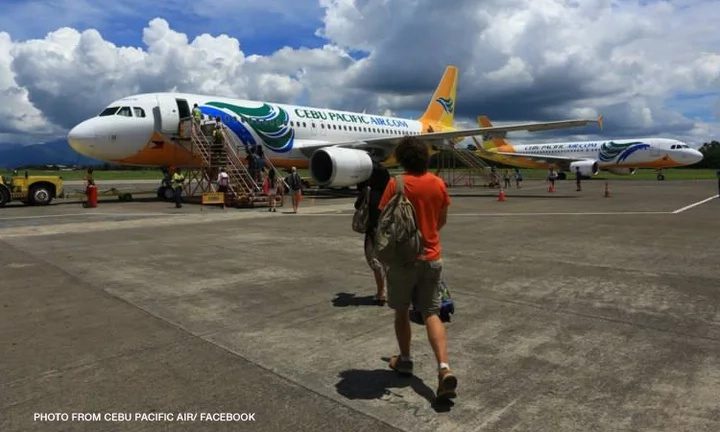 -Cebu Pacific is considering banning the passenger who allegedly slapped one of their cabin crews from ever flying with their airline again
-As far as rules go, Cebu Pacific has the prerogative to blacklist any passenger who shows unruly behavior
-The incident took place in a Manila-Davao flight and was witnessed by four other people inside the plane
Look: Passenger slaps Cebu Pacific stewardess over luggage argument
MANILA, Philippines - Cebu Pacific is in the process of weighing out whether or not they will blacklist a passenger who allegedly slapped a flight attendant over a baggage incident.
Cebu Pacific spokesperson JR Mantarig told reporters that they have just completed an internal meeting to discuss the proposal of blacklisting the passenger.
According to him, the Civil Aeronautics Board has already approved the internal blacklisting policy of Cebu Pacific which means that from here on, the officials of the company will have the prerogative to blacklist passengers from ever flying with their airline.
Read: China supports PH's drug arrests on citizens
Cebu Pacific has also offered the flight attendant legal support since she has expressed her intent to file charges against the abusive passenger.
According to the spokesperson, there were at least four witnesses to the incident - two cabin crew, a security member, and the operator of the plane.
According to Mantarig, the flight attendant requested the passenger to place her luggage in the overhead bin prior to takeoff. The said attendant even assisted the alleged abusive passenger in putting her bags up.
Read: Cebu Pac sorry for diverting flight to Mumbai
As far as Cebu Pacific's review, there was no mention of any other comments or interactions between the two during the flight.
It was until the plane has landed when the passenger, who deliberately stayed in to come out last, called the cabin crew over and slapped her.
Cebu Pacific released a statement saying that they will always back their staff when they are being physically and verbally abused by passengers. Apart from that, the airline company stressed the importance of the crew's directive to place the carry-on luggage in the overhead bin to ensure the safety and security of its passengers.
Read: Cebu Pac CEO flies PAL to avoid delay; still gets delayed
According to other sources, the passenger was allegedly dissatisfied and furious after the cabin crew refused to lift her bag to be stowed away.
Madel Ty, the cabin crew that was allegedly abused, said on her facebook post that it was not the job of the flight attendant to carry the passenger's bags for them but nonetheless, she did assist the passenger with her bag.
Read: Int'l airline eye direct flights to Davao City
Source: Kami.com.ph