- David Beckham was seen holding back his tears while sharing a story of a young Filipina
- The UN speech Beckham delivered featured the story of young Filipina who survived typhoon Haiyan
- David Beckham visited the Philippines as part of his commitment to UNICEF for 10 years now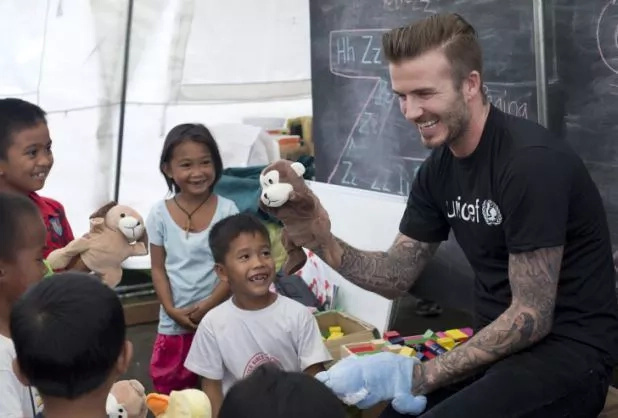 One story cannot change the world but nobody is exempt from feeling emotional when confronted with stories about life struggles.
Many people believe that the moment we're born in this world, our destiny has already been made. As a result, we don't have the ability to choose the parents we'll be born to or the place where we are supposed to spend the rest of our lives in.
We also cannot escape natural disasters and calamities created by nature.
READ ALSO: LOOK! This terminally-ill girl chooses death over life, her reason will surprise you!
In a speech delivered by famous athlete David Beckham recently, he shared the story of a young Filipina which moved him.
As the camera started rolling, Beckham was seen holding back tears as he tells the story of Venus and Viana.
The two girls are survivors of typhoon Haiyan which stuck the Philippines in 2013. The tragedy killed thousands of Filipinos in Tacloban.
READ ALSO: How people reacted to this DEAF cashier will inspire you!
Beckham visited the Tacloban City in the Philippines in 2014 as part of his duty as a goodwill ambassador of UNICEF. Beckham has been with UNICEF for 10 years time now.
Beckham himself has a very inspiring story. Beckham and wife Victoria are well known to live a simple life helping others with their struggles.
The UNICEF program Beckham has been working on aims to provide humanitarian and developmental assistance to children and mothers in poverty-stricken countries.
READ ALSO: Pope Francis rocks World Youth Day 2016
The video has been shared multiple times by people who were moved by Beckham's dedication to end world poverty. Watch the video below. -Kami Media
RELATED: LOOK! Ombudsman Morales wins prestigious Ramon Magsaysay Award
Source: Kami.com.ph