Nurses were as tough back then as they are now!
- Nurses are often underappreciated, despite their hard work and dedication to their craft
- The medical practises and regulations of nurses today were built upon those in the past - they've always revolved around maintaining impeccable hygiene, giving all they can to their patient, and bridging the gap between their patients and the doctor.
- Some rules in the 1880s may seem backward, but they nevertheless reflect the standards that nurses have and always will need to adhere to
Heroes come in all shapes and sizes - whether they're bravely fighting it out on the battlefield, defending us from criminal activities, or rushing into burning buildings, all of them have our utmost respect.
However, many other professions don't always get this recognition. One of the most underrated professions?
Nursing.
READ MORE: The man got a nursing job. What he does for his patients brings them back to life
No matter what role nurses take, they are extraordinary medical professionals that not only help save lives but also ceaselessly make an effort to be comforting, kind and compassionate to their patients.
In a #throwback to the old times, let's go back 129 years, to the year 1887. During this time, nurses were given a rigid set of guidelines to follow, which may seem strange or controlling to us in modern times.
So. With the primary obligation of caring for 50 patients, each nurse had to do each of these nine rules...
READ MORE: A young nurse thought she just followed patient's request. His remark made her blush!
1. Sweep and mop the floors of your ward daily, and dust the patient's furniture and window sills.
2. Maintain a steady temperature in your ward by bringing in a scuttle of coal for the day's business.
3. Light is vital for monitoring the patient's condition. Each day fill kerosene lamps, clean chimneys and trim wicks.
4. Nurse's notes are important in your physician's work. Make your pens carefully - you may whittle nibs to your own taste.
5. All nurses on day duty will report 7am and leave 8pm daily - except on the Sabbath, on which she will have some off time from noon to 2pm.
6. Graduate nurses who are in good standing with the director of nurses will be given an evening off each week for courting purposes, or two evenings a week if you are a regular churchgoer.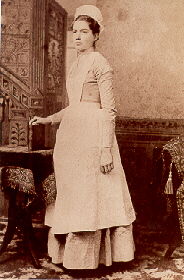 7. During each payday, each nurse should lay aside a goodly sum of her earnings so she can support herself during her declining years. This is so that she will not become a burden. If one earns $40 a month, for example, she should set aside $20.
8. Any nurse who smokes, drinks, and frequents salons or dance halls will give the director of nurses solid reason to be wary of her worth, intentions and integrity.
9. Nurses who perform their labors and serve their patients and doctors faithfully, without fault, for five years will be given an increase by the hospital administration of five cents a day.
READ MORE: Baby was born with no eyelids or nose. Nurse and doctor decided to adopt him
Throughout the years, nurses have stayed true to the tradition of selflessly and tirelessly caring for their patients. They're all most certainly worth of our gratitude and respect.
Show your appreciation for their character and craft by SHARING these 1887 rules with a nurse you love!
Source: KAMI.com.gh